For every paid software, always you can find an opensource alternative, sometimes the alternative is better and complete like (Gimp vs Photoshop) sometimes not. Today we will see a good alternative to Cpanel, the well known paid hosting / server panel, it is zpanel.
ZPanel is a free to download and use Web hosting control panel written to work effortlessly with Microsoft Windows and POSIX (Linux, UNIX and MacOSX) based servers or computers. This solution can turn a home or professional server into a fully fledged, easy to use and manage web hosting server.
Zpanel is easy to install and to configure. In this tutorial i installed Zpanel in CentOS 6.3.
1- Before to start we need to install some requered dependencies:




yum install ld-linux.so.2 curl




2- Download the  installation script from the  Zpnel   website (Last stable  release 10.0.0.2)




wget http://www.zvps.co.uk/sites/default/files/downloads/centos-6-3/package/installer-x86_64-install.sh.x.tar.gz




3- Now  extract the script  and  run
tar -zxvf



installer-x86_64-install.sh.x.tar.gz




4- Make the script  executable
chmod +x  i



nstaller-x86_64-install.sh.x




5- Run the script:
./i



nstaller-x86_64-install.sh.x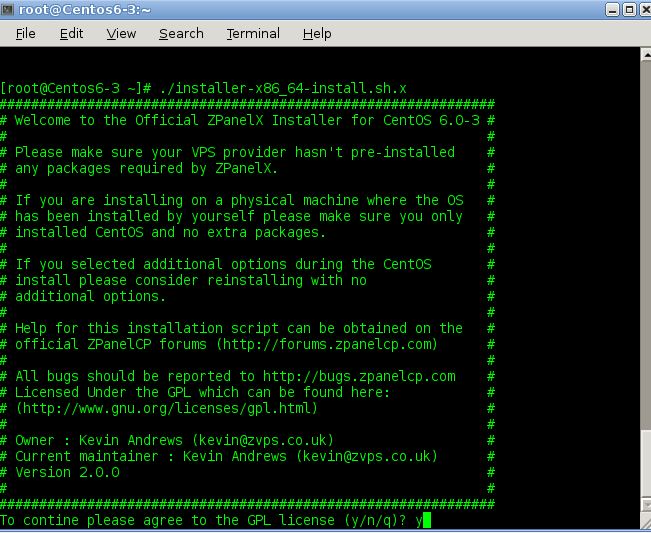 To contine please agree to the GPL license (y/n/q)? y
Find your timezone from : http://php.net/manual/en/timezones.php e.g Europe/London
Enter Your Time Zone: Europe/Amsterdam
Insert the  Install  version and  the  Domainname , Ip address and    the  password you want  to make  for  your  root  Mysql access and GO!!!
Install fresh ZPanel server or enter an upgrade version number e.g 10-0-1 :install
Enter the FQDN of the server (example: zpanel.yourdomain.com): zpanel.unixmen.com
Enter the Public (external) IP of the server: 192.198.1.109
MySQL Password is currently blank, please change it now.

Password you will use for MySQL: ******
Re-enter the password you will use for MySQL: ******

ZPanel will now install, are you sure (y/n/q)?
6- Installation Complted  and  Zadmin password  had  been generated.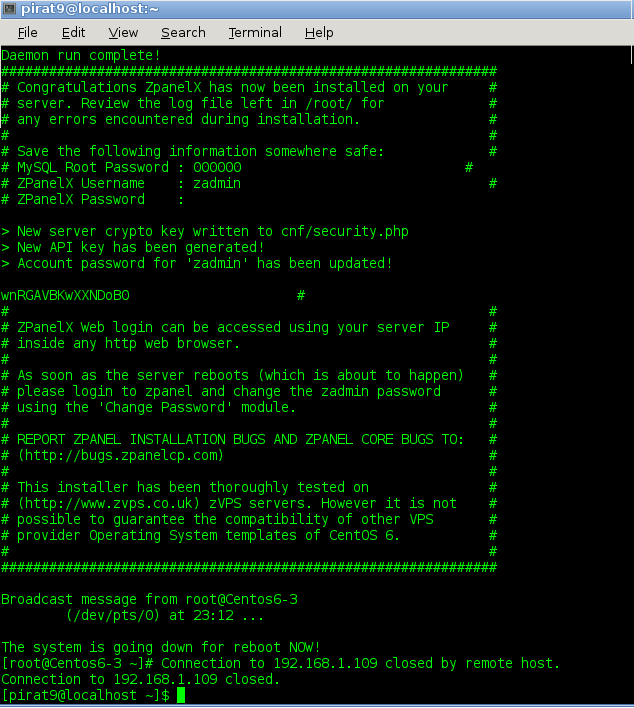 The  Server   will  restart automatically.
Please  connect to http://IP and  login with  zadmin user and  the  password  generated
and is done.
If you have any questions please post them in :http://ask.unixmen.com thanks.