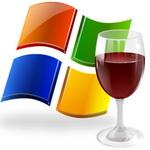 Wine is a free and open source application that allows users to run Windows software on other operating systems. Wine is always under heavy development with the team preparing one release every 2 weeks. Today, the founder and current leader of the project Alexandre Julliard, announced the availability of version 1.5.9 that brings some important additions and fixes.
What's new in this release:
– Support for GPOS font tables in Uniscribe.
– Support for XRandr 1.2 and 1.3.
– Parser improvements for the HLSL compiler.
– More key exchange algorithms supported on Mac OS.
– Relay tracing on ARM.
– Various bug fixes.
Most important specific applications problems addressed:
– Dogfighter (Steam) hangs when changing the video settings
– Dragon Age: Origins DVD authenticity checks fail
– Winamp [5.623]: Application crashes at startup, needs msvcr90.dll.bsearch_s
– Photoscape needs msvcp90.dll
– Dota 2 won't render with d3d9ex
– Mathematica 8.0.1 crashes on startup
– StarTopia: crashes while loading
– Microsoft SQL Server 2005 Express Edition: SQL Server System Configuration Checker fails
– EverQuest II: Launchpad hangs while loading
– Rise of Nations : Will not Start
– Amnesia – The Dark Descent: launcher.exe crashes on start
– MathCad 15 can't acquire trial license
– ChessBase 2009 Light help viewer crashes
Ubuntu and Linux Mint users do the following:
Open the Software Sources menu by launching the "Ubuntu Software Center" and selecting Edit->Software Sources. Choose the "Other Software" tab and click "Add". Then copy and paste this ppa:ubuntu-wine/ppa as shown in the following picture: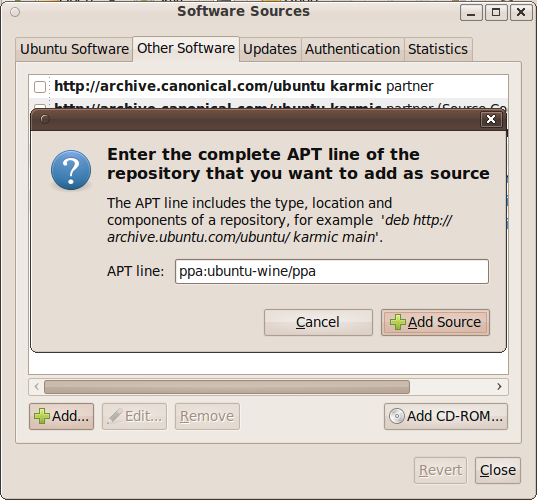 Once you add the repository you can update to the latest wine from your "Update Manager".