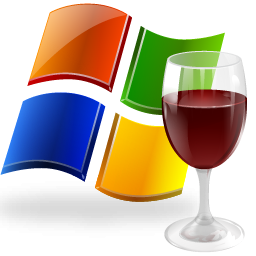 Wine is a free and open source application that allows users to run Windows software on other operating systems. Wine is always under heavy development with the team preparing one release every 2 weeks. Yesterday, the founder and current leader of the project Alexandre Julliard, announced the availability of version 1.5.11 that brings some important additions and fixes.
What's new on this release:
– Multi-channel support in the ALSA driver.
– Removal of the big X11 lock.
– Support for pair positioning adjustments in Uniscribe.
– More I/O stream implementations in the C++ runtime.
– Various bug fixes.
Most important specific applications problems addressed:
– Graphical corruptions in Sim City 4
– Starlancer crashes with force feedback enabled
– S.T.A.L.K.E.R: sky not redrawn correctly with dynamic lighting
– Steam version of Need for speed undercover crashes if you click on it.
– Fallout 3: childbirth scene halts after every (second) line of dialogue, preventing new game
– Prince of Persia: The Forgotten Sands won't start without native d3dx9_36
– Error: starcraft ii.exe has encountered a serious problem and needs to close
– Star Wars: Knights of the Old Republic crashes after first location
– Team Fortress 2 – Pyromania update locks up screen
– DotA 2: overbright/broken lighting effects
– Outlook 2010 crashes on calender alerts
– msvcp100 missing _J versions of several functions
– Game Controllers Panel looks weird when dpi is higher than 96 ppp.
– GeForce GT 630M (with Bumblebee) is not properly recognized
Ubuntu and Linux Mint users do the following:
Open the Software Sources menu by launching the "Ubuntu Software Center" and selecting Edit->Software Sources. Choose the "Other Software" tab and click "Add". Then copy and paste thisppa:ubuntu-wine/ppa as shown in the following picture: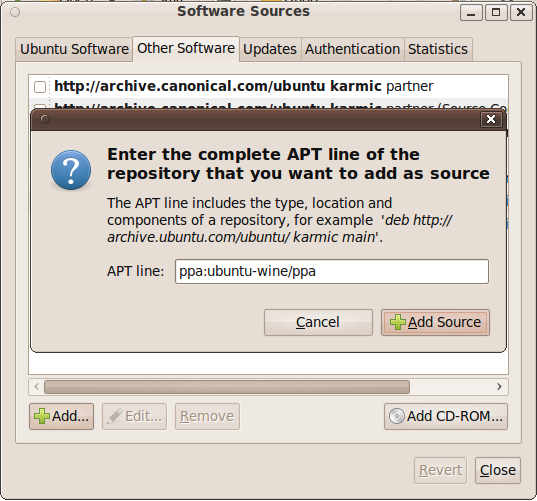 Once you add the repository you can update to the latest wine from your "Update Manager".
Get Source Download for other Distributions