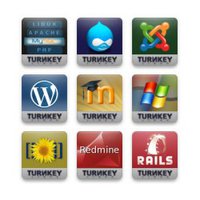 The latest version Turnkey 13 – codenamed "satisfaction guaranteed or your money back!" has been released with many feature improvements and new applications.
The new release celebrates 5 years since TurnKey's launch. It's based on Debian 7.2 distribution and includes 1400 ready-to-use images: 330GB worth of 100% open source, guru integrated, Linux system goodness in 7 build types that are optimized and pre-tested for nearly any deployment scenario: bare metal, virtual machines and hypervisors of all kinds, "headless" private and public cloud deployments, etc.
New apps in this release include OpenVPN, Observium and Tendenci.
What is Turnkey Linux?
For those who don't know or haven't heard yet about Turnkey Linux, It is an opensource project that aims to develop high-quality software appliances that are easy to deploy, easy to use and free. You can deploy 100+ Linux applications such as WordPress, Joomla, OpenVPN, Samba and much more in minutes. You can find the complete list Turnkey Virtual appliances here. The main formula behind Turnkey Linux is "Lighter, smaller, faster and easier".
Why Turnkey Linux?
Say for example, you're going to install WordPress in your server. Just download the Turnkey WordPress ISO or virtual machine image and boot the server with the ISO and follow the onscreen instructions. You're done! You don't need to install LAMP or LEMP server separately to deploy WordPress. Everything will be pre-installed and you'll be asked only a few simple questions such as system name, domain name, ip address etc., during installation. A novice system administrator or a non-techie can able to install any complex server concepts such as domain controller, LDAP server, File server, LAMP or LEMP server etc., easily and as well as quickly.
You can benefit from Turnkey Linux in many ways as mentioned below.
– Save time and money with 100+ ready-to-use solutions.
– It just works: designed for ease of use, built and pre-tested by a community of experts.
– Backup and migration: smart software saves changes to files, databases and package management to encrypted storage which servers can be automatically restored from.
– Secure and easy to maintain.
– 100% Open Source
– Based on Debian 7.2 ("Wheezy")
– Easy to use and Lightweight (starting from 150MB).
TurnKey Linux is a project started by Alon Swartz and Lirax Siri. These two guys have done a great job to ease the life of a novice Linux System administrator. Also turnkey provides paid solution called "Turnkey Hub" that makes much easy to deploy and manage virtual appliances in the Amazon EC2 Cloud.
What are you waiting for? Go, get it and deploy your required application instantly with Turnkey Linux.