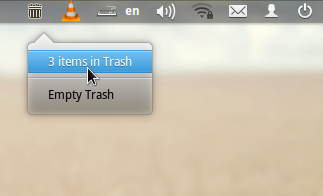 TrashIndicator is a Trash in the indicator area (Ubuntu Linux).
In this post am going to show how I installed trashindicator in in Elementary OS Luna.
Features
Trash icon in the indicator area
Menu items to view or empty trash
Counter shows number of items in trash
Monitors standard trash:/// path
Download and Install
Download the .DEB package or Tarball here.
Open terminal and change directory the downloaded file location. :
cd Downloads
Run the command below to install:
sudo dpkg -i trashindicator_1.00-1_all.deb
Log out and log in to see trashindicator in action.
Panel after:
Panel before:

Trash indicator now starts after every reboot.
Done!