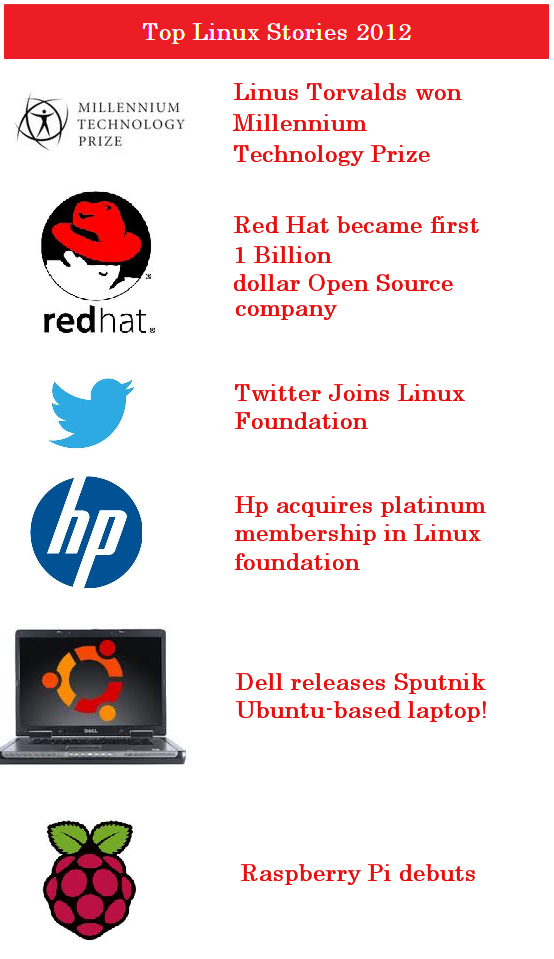 And we are on the verge to cross yet another year and blog posts regarding the year-in-review have already started to pour in on the web. The blog post, one of that kind, round-up top Linux (and open source) stories of 2012.
For those who are have less time to spare here are the quick roundup of best things that happened in Linux world!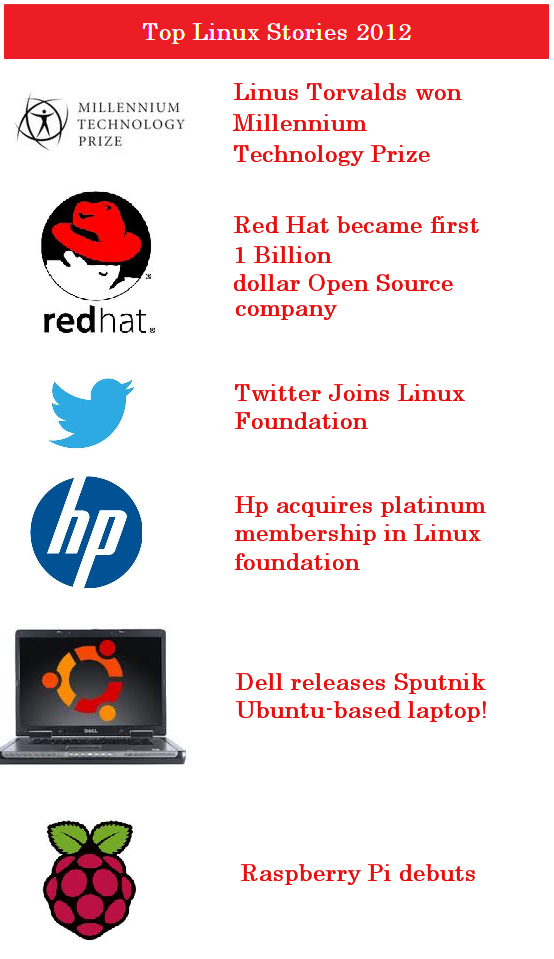 January
Canonical the company behind Ubuntu announced the Ubuntu TV at CES.
NGINX acquired 2nd place in Web Servers from Microsoft IIS, Apache crowned as unbeatable first web server, according to report released by Netcraft, the leading Web server analytic company.
Linux Mint released Cinnamon on lines of GNOME 2.X
Rhythmbox 2.95 was released!
February
Apache releases first major new version of popular Web server in six years.
Canonical unveiled Ubuntu for Android, Linux desktop for high-end Android phones.
Red Hat announced an important upgrade of its Enterprise Linux promising increased scalability, performance and management of its KVM virtualization as well as performance upgrades for Xen.
Adobe Abandons Linux for Flash and AIR.
Intel started to offer the open-source office suite LibreOffice in its application store called Intel AppUp, for Windows users.
SUSE shipped its first update to Enterprise Linux SP2 which incorporated the new forward-porting model.
Raspberry pi was released on 29th February, running Linux OS.
Mozilla Thurnderbird 10.0 released!
March
NVIDIA joins the Linux Foundation
Official Remix of Fedora Linux compatible for Raspberry Pi was released
Oracle released its Enterprise Kernel Release 2 for Oracle Linux incorporating a number of features most notably the support for the mainline Linux 3 and btrfs.
Ubuntu 12.04.1 LTS (Precise Pangolin) Beta released
Red Hat Became Open Source's First $1 Billion company!
April
The fifth release of OpenStack,( codename Essex) debuted on April 5th.
Linus Torvalds was awarded the Millennium Technology Prize! A prize comparable to the noble prize in technology!
Red Hat and SUSE join IBM's new Linux POWER Servers.
Ubuntu 12.04 was released!
May
Red Hat debuts OpenShift Origin project
Apache Software Foundation announced the first official release of Apache OpenOffice, version 3.4.
Red Hat turns Ten!
Fedora 17 with Gnome 3.4 released
Google buys Motorola
Linux Mint 13 "Maya" was released on 23rd May!
June
First PC powered by Linux Mint goes on Sale!
Red Hat Enterprise Linux 6.3, the mighty version of Red Hat was released!
Top 500 released the report enlisting top 500 supercomputers in the world. Linux powered supercomputer Sequoia acquired the first place! Top 5 supercomputers were powered by Linux.
Firefox comes to Android!
Red Hat debuted series of integrated cloud solutions including Red Hat Hybrid Iaas.
Red Hat acquires FuseSourceGoogle
Glasses prototype unveiled
Canonical partners with Microsoft to support Ubuntu on Azure
July
Ubuntu adds support for WebApps on its Linux desktop
August
Microsoft announced MS Office 2013 shall finally fully support ODF, Open XML, and PDF formats.
Twitter joins Linux foundation!
Firefox 15 released!
TextMate 2.0 gones opensource
KDE 4.9 Arrived
September
OpenSUSE 12.2 Linux released
October
Joomla 3.0 CMS was optimized for mobile devices
Ubuntu 12.10 released!
Mono 3.0 released!
Firefox 16 released!
November
Fedora Linux 18 beta was finally released
Linux Mint 14 Nadia released
Dell released Linux powered Ultrabook
HP becomes Platinum Member of Linux foundation, pays$ 500,000
Firefox 17 debuts!
December
Linux 3.7 arrives
Red Hat Enterprise Linux 6.4 beta made available