The best Linux online courses and providers make learning how to operate with the typical operating system straightforward. This is crucial because Linux training and Linux distributions are becoming essential OS to be familiar with if you want to become a successful businessman. One of the reasons is that most websites run on several open source Linux platforms.  One cannot forget that there are reasons why Linux is more secure than Windows and what makes it so strong.
Whether it's FreeBSD, RedHat, Debian, Ubuntu, or CentOS, it's wise to familiarize yourself with primary operations.Linux knowledge can help you understand IT reports, examine operations directly from your Windows computer, and safety concerns. For Linux administrations, it's helpful to have an excellent comprehension of Linux and good experience.
Of course, there are other things needed for being a successful programmer. Understanding how to use programming languages is an essential skill for this category of people. It is better to start looking for the best С programming courses in order to become a successful IT specialist.
Below there are the best 10 working Linux courses online:
1. Linux Command Line Basics
It is an affordable Linux course instructed by Ahmed Alkabary. It has a four-hour 59m long duration and is excellent for beginners.
The system helps you to use the Linux command line. It can help you enhance your career and become an effective user. It also teaches you how to build soft and hard links, use Linux wildcards and text editors, and view, create and manipulate a file in your cloud.
2. Ubuntu Linux Server Basics
It's a popular course for beginners, instructed by Cody Ray Miller. The total duration is six hours, 37m time. Those who want to enhance their IT prowess will highly benefit from the course. It's available on Udemy and aims to guide students in setting up and configuring a backend from the beginning.
Individuals don't need to have any expertise with any technique. Intermediate learners can also practise things like using SSH to control their server remotely or running their back end using Apache.
3. Learn Linux in 5 Days and Level Up Your Career
The course doesn't need users to have any prior know-how. It uses a systematic approach that ensures that you get familiar with all the real experiences of the Linux environment before proceeding to the up-to-date levels. You'll get to know how to access Linux servers, acknowledge Linux distribution, SSH basic concepts, fundamental commands, renaming, creating, deleting, moving a file and directories, etc. The software instructor is Jason Cannon. It features 82 video lessons.
4. The Linux Foundation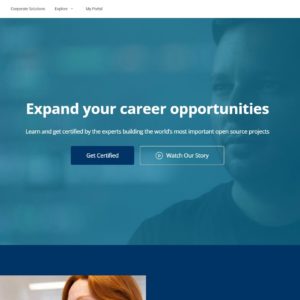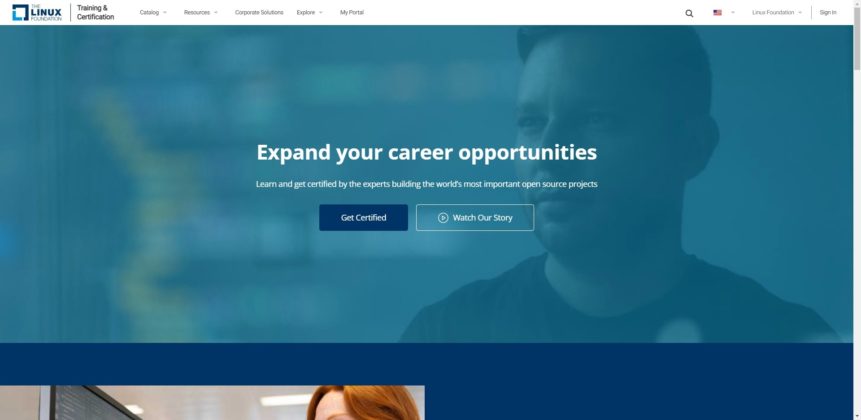 The best thing about this course is the fact that it's free. It features several Linux lessons through the edX platform, including Introduction to Linux. However, you need to pay an additional fee to get a completion certificate. It features many learning videos to help learners be cognizant of key IT abilities and familiarize themselves with Linux, using the UI and a graphical interface. It also comes with a vast array of 'do it yourself' Linux tasks that allow you to experiment.
5. Linux Administration Bootcamp: Go from Beginner to Advanced
The course is perfect for those who want to learn about Red Hat and CentOS. If you're going to be an Admin, you need to take it. The program allows you to work on problems and get vital skills. In the end, you'll have the mastery to maintain and configure different systems.
It's suitable for novice and skilled Linux users.
6. Red Hat Linux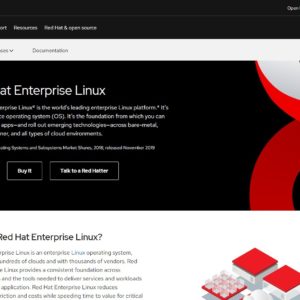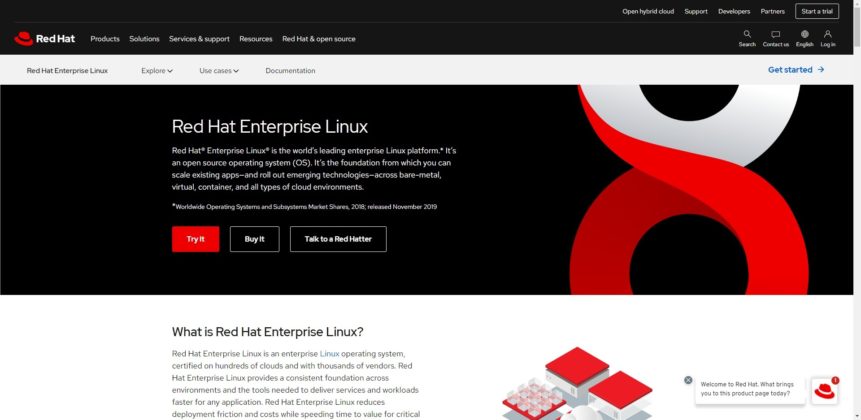 Red Hat Enterprise Linux (RHEL) is a Linux version mainly designed for large companies. The provider guarantees to coach anyone interested in becoming a Linux system administrator. The first part is available for individuals familiar with the program but those who want to get deeper into it. This knowledge is important while working with Linux.
The applications come with feasible exercises to test your capabilities. Although the enterprise's programs can be costly, they're excellent for firms that want to train workers.
7. Linux Mastery: Master Linux Command Line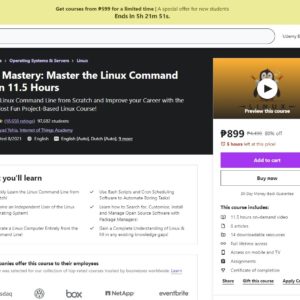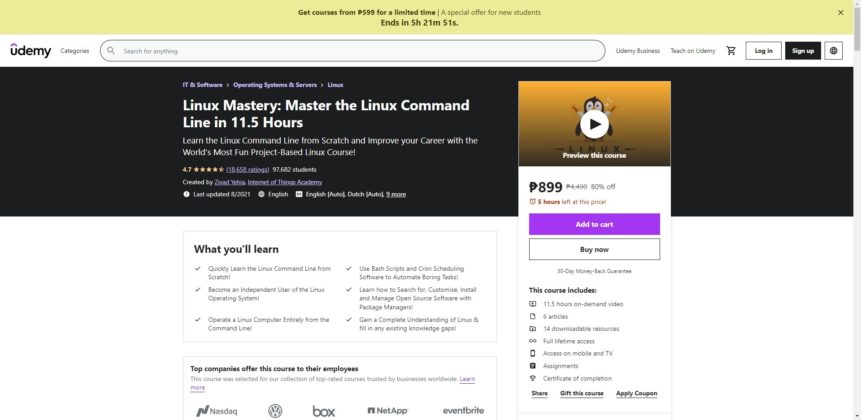 It's a fantastic course that gives people practical knowledge of Linux. The system helps enhance your expertise in the OS. Some valuable lessons include bash scripting and Cron Job used for job automation, package managers and software repositories, etc.
You'll realize many lecture summaries, quizzes, downloadable resources and files to install on your device, lectures, and sheets.
8. LearnLinux in 5 Days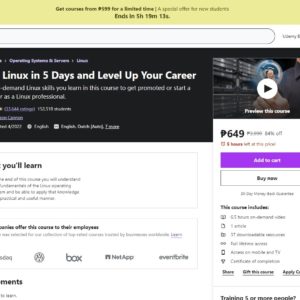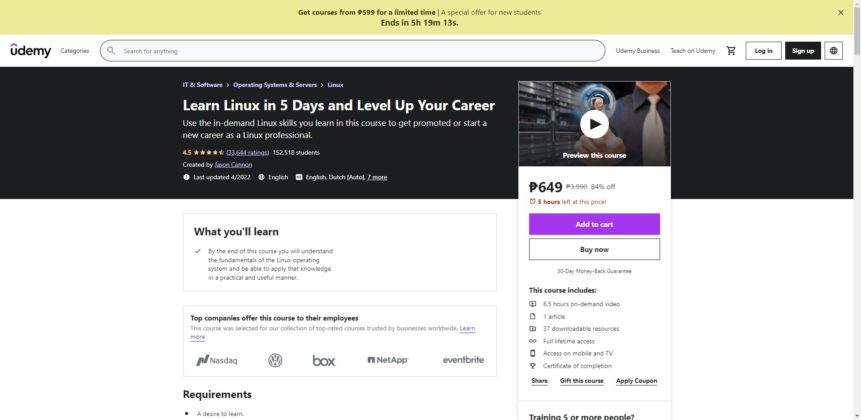 The program is designed to help students grasp the pro competence needed. The instructor is Jason Cannon. It features hands-on and real-life examples to help you learn fast. Everything is explained thoroughly. It comes with an on-demand tutorial and step-by-step instructions on how to install WordPress.
9. QA Course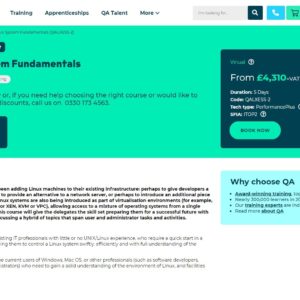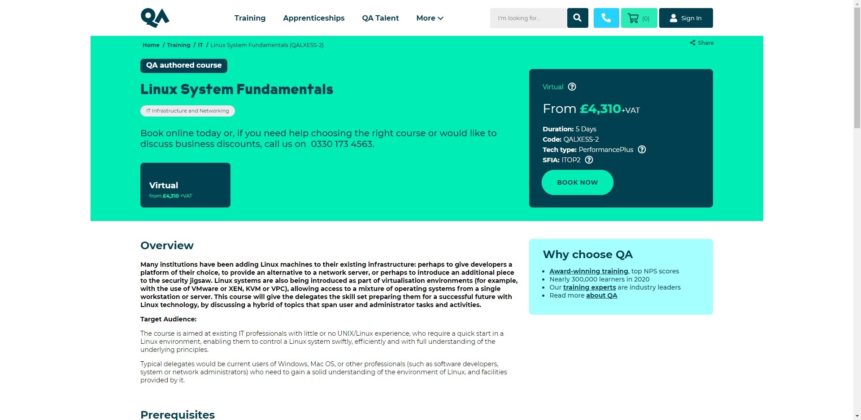 QA launched over 30 years ago and provided a vast array of lessons for pros to gain new mastery and certification. You'll notice eight Linux programs on its site. They're suitable for novice and experienced users. One of the recommended courses is Linux System Fundamentals. It focuses on helping people process the command line of the program.
10. Complete Linux Course: Become a Linux Professional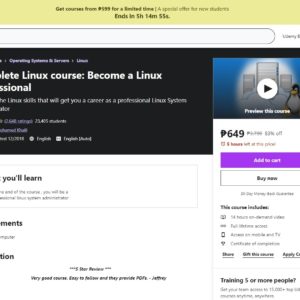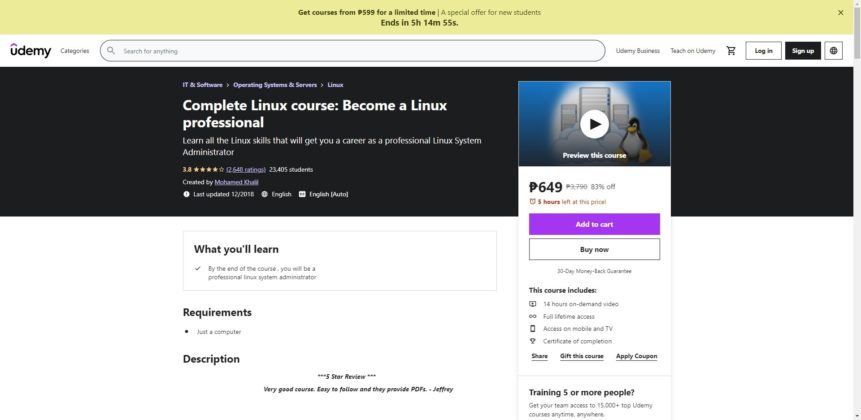 The Udemy program aims at introducing and learning the vital Linux Skills that will help you become the program's system admin. Some of the critical concepts here include using and understanding essential tools in the Linux environment, building a suitable environment, managing groups, and users, etc. Others include configuration and deployment, maintenance of systems, and virtualization.
Conclusion
There are enough accredited schools online where you can learn the courses in-depth, as there is a lot to learn. The courses focus more on security and stability which is why it gets all the attention it does. It's in great demand too, so you may want to read up more on Linux if you want to move your career to the next level. We hope this article points you in the right direction.
About the Author
Robert Wilson is a web-developer and an IT specialist who also works as a guest lecturer at different IT Academies. He uses his professional knowledge to write for PapersOwl thanks to his extensive experience in the field of IT education and security. He is the author of numerous courses for IT beginners as well as advanced specialists. Having created tens of courses for IT professionals Robert has become one of the key experts in the field.