Hi Guys, Hope you're enjoying the Sunday. Today I've came up with an excellent designing application. Want to become an Interior Home designer for your future or present home? Yes, Wonder, how? Cool, it is very easy i guess. Here i am going to introduce a Home interior designing software called Sweet Home 3D.
Sweet Home 3D is a free, Open Source home interior design application that helps you to draw your current or future home, arrange furniture on it and view the output in 3D. Quit interesting, isn't? Yes, it is. You don't have to hire an interior home decorator and spend more dollars to design your home interior. All you to do have is install the software in your Linux desktop, start learning the software and design yourself. Although Sweet Home 3D is available for Windows, Mac OS X and Solaris platforms too.
Features
From the Project website:
Sweet Home 3D will do the following things for you:
– Draw straight, round or sloping walls with given dimensions using the mouse or the keyboard.
– Insert doors and windows in walls by dragging them in the plan, and let Sweet Home 3D compute their holes in walls.
– Add furniture to the plan from a searchable and extensible catalog organized by categories such as kitchen, living room, bedroom, bathroom etc.
– Change color, texture, size, thickness, location and orientation of furniture, walls, floors and ceilings.
– While designing the home in 2D, simultaneously view it in 3D from an aerial point of view, or navigate into it from a virtual visitor point of view.
– Annotate the plan with room areas, dimension lines, texts and show the North direction with a compass rose.
– Create photorealistic images and videos with the ability to customize lights and control sunlight effect according to the time of day and geographic location.
– Import home blueprint to draw walls upon it, 3D models to complete default catalog, and textures to customize surfaces.
– Print and export PDFs, bitmap or vector graphics images, videos and 3D files in standard file formats.
– Extend the features of Sweet Home 3D with plug-ins programmed in Java, or by developing a derived version based on its Model View Controller architecture.
– Choose the language displayed in the user interface of Sweet Home 3D and its rich help from 24 languages.
– Download Sweet Home 3D to run it offline under Windows, Mac OS X, Linux and Solaris, or use its online version from any browser supporting Java.
– Design home plans for free with Sweet Home 3D distributed under GNU General Public License, even for commercial purpose.
Install Sweet Home 3D On Ubuntu, Debian, Linux Mint
Sweet Home 3d is available in the default Ubuntu/debian and its derivatives. So install it using the following command from your Terminal.
sudo apt-get install sweethome3d
For other distro's please download the latest version here.
Launch it either from your Dash or Menu.
This is how Sweet Home 3D looks at first launch.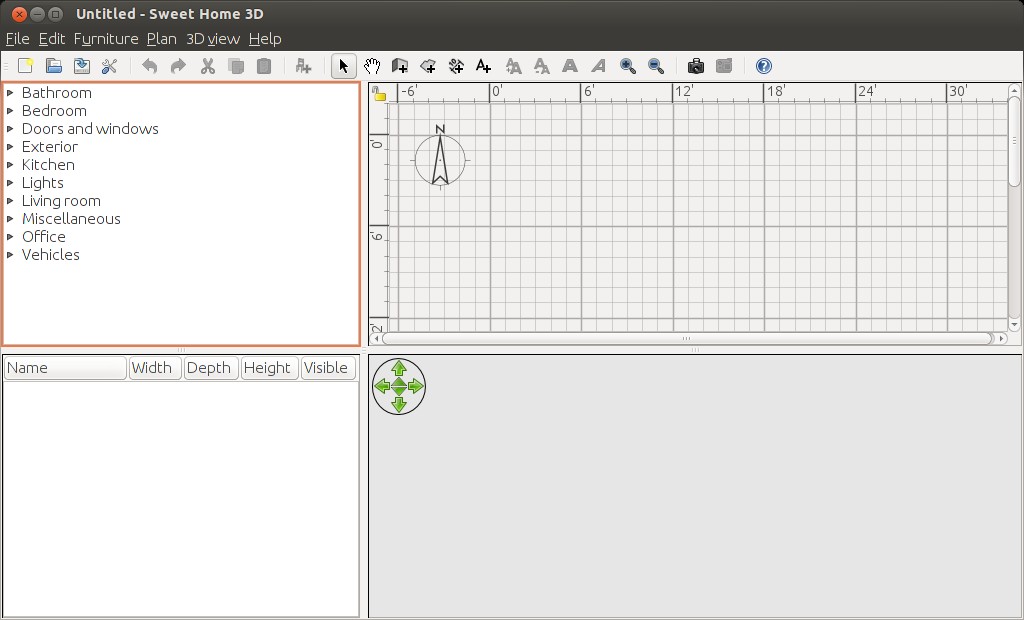 As you see in the above picture, there are four columns in Sweet Home 3D interface. The top left column is Furniture catalog, organized by categories, contains all the furniture and objects you may add to your home design. You can display  the furniture of a category by clicking on the triangle beside its name.
The bottom left column is Furniture list which has the list of furniture of your home, where their name, size and other characteristics may be displayed. It may be sorted by clicking on each column title.
The top right column is Home plan that displays your home as seen from top, upon a grid and surrounded by rules. You draw the walls of your home with the mouse in this pane and layout your furniture upon it.
The bottom right column is Home 3D View which shows your home in 3 dimensions. You may see your home in this pane either from the top, or from a virtual visitor point of view.
Now head over to the User Manual from the official website to learn more about designing your home interior. It will take some time to learn and design home perfectly, but i think it is not that difficult. You can make it if you have time, interest, patience and good designing skills.
Also there is an video tutorial to learn easily. Check out the video tutorial found here.
Still you need a interior designer for your home? I don't think so.  I guess Sweet Home 3D is your interior designer for your home right now.
Enjoy!