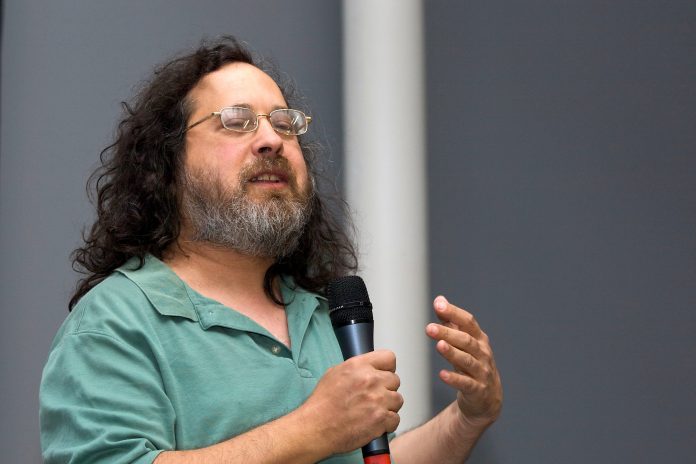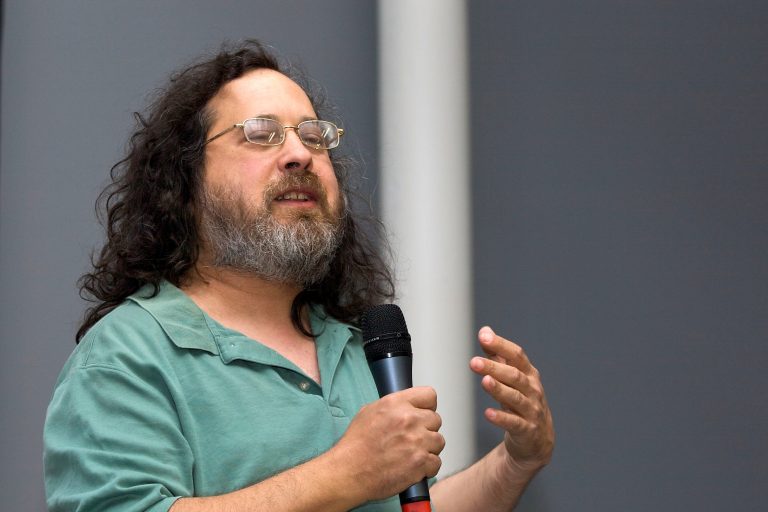 What is programming for you? Is it a job, hobby or maybe source of income? For him, programming is a life's philosophy: "Free as a Freedom". Yes, today we will speak about Richard Matthew Stallman, the father of Free Software Foundation.
Early Life
Richard Stallman was born 16 March in 1953 in New York, Manhattan. His parents are Alice Lippman and Daniel Stallman. Richard's mother worked as a teacher and his father was a printing press broker. He worked for long time as a volunteer in those ages, as the idea was not money but help, creativity, work and world's development. From young ages, he demonstrated his need in freedom of choice and freedom from defense on money.
From his childhood, Richard Stallman was interested in science. He even was a laboratory assistant at Rockefeller University in the biology department and his teachers predicted him a great future as a biologist. But young Richard was also talented in math, physics and computers of course.
Education
His educational way started in Harvard University in 1970. In 1971 he joined hackers community in the university. Stallman graduated from Harvard in 1974 earning a bachelor's degree.
Young Richard decided to continue his education in Massachusetts Institute of Technology. But after one year he focused with full attention on his programming work in MIT Laboratory.
GNU Project – Free Software Foundation
In 1983 Matthew Stallman started GNU project. He was sure that he is the chosen one to give users freedom by creating Free Software. This project was not just a technical job, it had political, ethical and social meaning.
The main target of GNU project was freedom, which anyone has the right to have.
Freedom includes that users can:
Run software for any purpose as they wish;
Have access to the source code;
Copy the software;
Modify the program;
Distribute and share with others.
In 1985 was published the GNU Manifesto.
Free Software guarantees via license all rights to their users. Free software doesn't mean that it is "non-commercial", you may buy it, but at the same time you buy not only the program, you buy all rights to use as you like.
The idea also include an important subject: if you decided to modify or add some changes in the current free software, your modifications will be available for others too. But you have rights and freedom to decide by yourself to share your ideas or not.
The only potential problem of free software that some governmental laws, export control regulations and sanctions don't allow to distribute everything internationally.
Important note that "free" means "freedom". The final goal was to create a new operating system that will run any software that comes with UNIX, for free, even if originally it is not for free.
Project development started in 1984. In 1992 the GNU project became available under version 2.
The project is currently working and it includes awareness building, software development and sharing new information.
Open Source vs Free Software
Richard Stallman is known as a person, who fight all his life for right definitions of his project. He even will refuse any interview if he will be not sure that you will use the same definitions that he means. This point is the source of misunderstandings between free software and open source community. The main difference is that open source is a model of development, while free software is an idea and political movement.
When you are speaking about free software, avoid saying "for free" or "giveaway", as it will change the meaning to the issue about the cost, not the freedom, as human rights.
GNU and Linux
Back to definition importance, GNU is a recursive acronym for GNU that means GNU is not UNIX. But at the same time GNU was created as a project to work compatible with UNIX.
In the early 90's GNU/Linux system was simple operating system without GUI installation tools or CD-ROM.
First Linux kernel was written in 1991. The kernel is crucial and most software applications are from GNU project on this level. These tools include such command line utilities like bash, find, cp, Is and the compilers like gcc.
At user's level we can see a graphical user interface (GUI) and easy to use system for anyone.
Benefits of using Free Software
Richard Stallman was inspired by Harvard's policy, where no one program could be installed, if its sources are not publicly displayed.
GNU is available for everyone like air. Programs cost usually include price of the license, even license for the copy, in free software this additional cost will be removed. Complete system source should be available for everyone. In this case any user can add additional functions to the program that he needs by himself or hires someone professional for this job.
People will not need to wait till the company updates a new version of the program or by decade of different small programs to get the goal, he will just develop in few steps professional software that already exist. If you want to develop large software applications by yourself from scratch, start with contributing some changes to already existing large software. Next step will be huge changes and only after you could build your own. Free software will be helpful for you in this case as you have access to change its code.
At the same time free software protects not only users, but also companies from hacking.
And as any user will update the software, it will be like competition between company's developers and simple users. Right competition spirit always born new ideas.
Only one thing that seems negative from the first look is that programmers monetary will be less. But the positive moment in this situation is that really talented specialists, who love their work as Richard Stallman does, will work for any salary. As they will work for an idea.
Free Software Foundation
The Free Software Foundation (FSF) is a worldwide nonprofit mission to give all computer users freedom and to protect their rights. It was founded by Richard Stallman on 4 October 1985.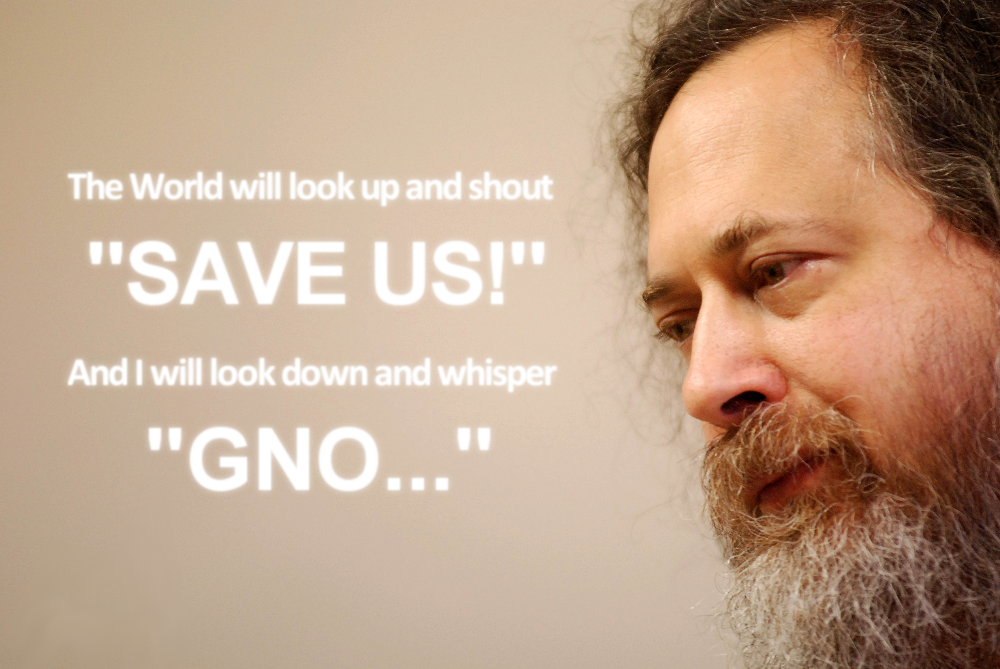 The target is to grow up new free generation of users as our life every day gives us more reasons to use different software. The foundation was created for users' benefits not for software companies' profits.
Interesting fact that free software foundation itself uses only free software for their work, as it is their life's principle.
FSF sponsors the GNU project. They have many volunteers who contribute to this work, as young Stallman did in his early life.
Free Software Foundation holds a large proportion copyrights of different free software, including the GNU operating system.
Every year thousands of corporations and individual software developers register their copyrights with enforcing the license and the US copyright office through Compliance Lab and Free Software Licensing.
If you are following Richard Stallman's freedom philosophy, the best support you can give to free software is to use their products on your private PC and share this idea with your friends.
Protect Yourself from Spy Devices
Freedom includes also right for private life and your own secrets. Richard Stallman has never left this point without any attention. People have to understand the value of freedom.
Software usage is still young in the world. Just few decades later and it became part of our life. And we listen much about developer's right as authors. Licenses protected their right, but Richard Stallman was the first who started to speak about users' rights and about their freedom and its value.
Be careful with Your Mobile
Any mobile phone, such as smartphones or otherwise can be transformed into a listening devices. The only way to protect yourself from this is not only to close the mobile, but also by removing the batteries.
Mobiles control your life not only by listening but also by tracking where you are going.
Sure you remember Edward Snowden's story.
Why Proprietary Software are Malware?!
According to Richard Stallman's philosophy, the main detriment of proprietary software is that such software can be used in sending data about your usage of the software or even about yourself to its developers without telling you.
Proprietary software the same as mobile phones can attack on users' privacy and spying on them.
Unfortunately till now it is still possible that a free application could also spy, but likely it is much less.
Where in the world is Richard Stallman?
Richard Stallman's life is the life of his idea. Free Software was never a just job for him. And as he always motivates others to share this idea, he does the same by himself.
Founder of the Free Software Foundation has an extensive and active travel schedule all over the world to let students, programmers and other PC users know about free software.
If you want to visit his lectures this month, you could find him in USA, but in November he will be in Belgium. If you haven't an opportunity to travel, you could easily find lots of his videos recorded via internet.
Conclusion
You have to be really enthusiastic person to dedicate your whole life to spread the idea of human rights and freedom. Richard Stallman proves with his life that you don't have to be a politician to change the world. Talented programmer with a strong life position, is a good sample for those who are fighting for freedom.
If you will get deep into the free software idea, you could understand it clearly by promoting, using and developing free software. Free software is not about technics, it is about your and population's rights and freedom.
I could not leave this article without saying thanks to Richard Stallman for his huge role in making the world better.