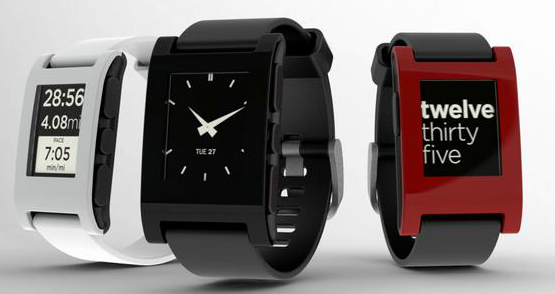 Do you think the wrist watch era is over and soon the wrist watches will be doomed to the graveyard of floppy disks, cassettes, tape recorders etc., as mostly people use their mobiles and smartphones to check the time? Think again! The era isn't over, it's time for smartwatches! Meet Pebble, a tremendously customizable smart watch that integrates perfectly with your Android and iPhone. Read on for more exciting details.
.
.
.
Pebble that comes from the developers of inPulse, seeking $100,000 to fund their latest production; and now they are well-up-to the mark by raising over $5 Million on Kickstarter from pre-orders from 36,000 individuals claiming the Kickstarter record for the largest amount raised through crowd-funding! So what's so special about the smart watch?
Pebble is smart watch that connects to your smartphone, Androd or iPhone via Bluetooth and alerts you for important notifications (call, email or SMS messages) by silent vibrations. And not only that, the smartwatch is capable to run some useful yet amazing apps. For example, pebbles can access GPS on your smartphone via app. Another app will let you control music on your smartphone, replay, skip any track or pause or rewind it, on both iTunes or Google Music. Setting up Pebble and installing app onto Pebble is as easy as Pie! Setting up Pebble requires you to simply download the pebble app onto your smartphone. Pebble apps are distributed via Pebble watch app store and loaded onto watch via Bluetooth. The smartwatch is not only useful, it is beautiful! You can choose from tons of watchfaces and change them to give yourself a new feel! Let's have a spec showdown:
Display: 144 x 168 pixel display black and white e-paper. E-paper display is the very same famous diplay employed in most e-book readers. The watch is easy to view and is glare-less, thanks to e-paper display.
Connectivity:  Bluetooth 2.1+ EDR
3 axis accelerometer with gesture detection
Vibrating motor
UI and appearance:  4 buttons, Replaceable wrist bands, waterproof, scratch-resistant. Back light to view in dark.
Notifications:  With Pebbles you can receive notifications of these types: Incoming Caller ID, Email (Gmail or any IMAP email account), Calendar Alerts, Facebook Messages, Twitter, Weather Alerts, Silent vibrating alarm and timer etc. You can also customize the notifications on the smart watch. You will be able to dismiss notifications by simply shaking the wrist.
Battery Life & Charging: Battery life is upto 7 days. Charges via special USB cable included.
Behind the immensely promising accessory for your smartphone is an enthusiastic team, vigorously employing free and open source softwares! You will be interested to know that Andrew Witte (Lead Engineer working on the firmware) uses Xubuntu that is Ubuntu running with an XFCE desktop for the development and debugging.
Canonical reports the firmware development toolchain is CodeSourcery GCC for compiling, OpenOCD for working with the JTAG, and GDB (the GNU debugger) for finding all hard to solve bugs. For the Bluetooth interface mostly testing is accomplished with Ben Lam's Python-based 'LightBlue' framework and utilities like hcitool. Also, for processing the bitmaps and pictures (before they are sent to the Pebble watch prototypes) the team is employing Gimp and ImageMagick! That is to say underevery great software is open source software!
Truly Pebbles is the watch made for the 21st century, that shall seamlessly integrate with your workflow. May it be Google Glasses project or Ubuntu E-pebble Smart watches, we are moving to a mobile-hardware-less computing paradigm where most of the daily trivial tasks will be done without even holding a bulky moiled phone! Want to change the music? Say hello to Pebble.