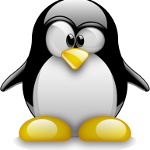 Unquestionably Linux is still struggling to claim a respectable share in desktop market. The trend does not seem to vary drastically in enterprises too. However in contrast to Linux share in desktop operating system, Linux claims a considerably larger market share when it comes to operating system used by enterprises. The post presents some latest stats depicting where does a Linux stand as an operating system for business. The post also details some enterprises that rely on Linux for their everyday computation.
Unfortunately the enterprise sector is mainly dominated by Windows, Windows 7 to be precise. However trends are changing particularly if we take in account last 3 to 4 years. Te trends are favoring Linux and open source software at large. Small to medium sized business are adopting Linux as their primary Operating system to cut cost. As reported by Jeffrey Hammond, the principal analyst at Forrester Research "Linux has crossed the chasm to mainstream adoption." this declaration was based on Forrester's survey data which deduced that large number of enterprises have flocked to open source technologies in early 2009 primarily as a way to cut costs. The survey further found that by the end of 2009, enterprises were increasingly looking to open source as a driver of growth. Survey published by Hubspan in 2012 details the usage stats of operating system used by enterprises during the year 2011. The stats are graphically illustrated here: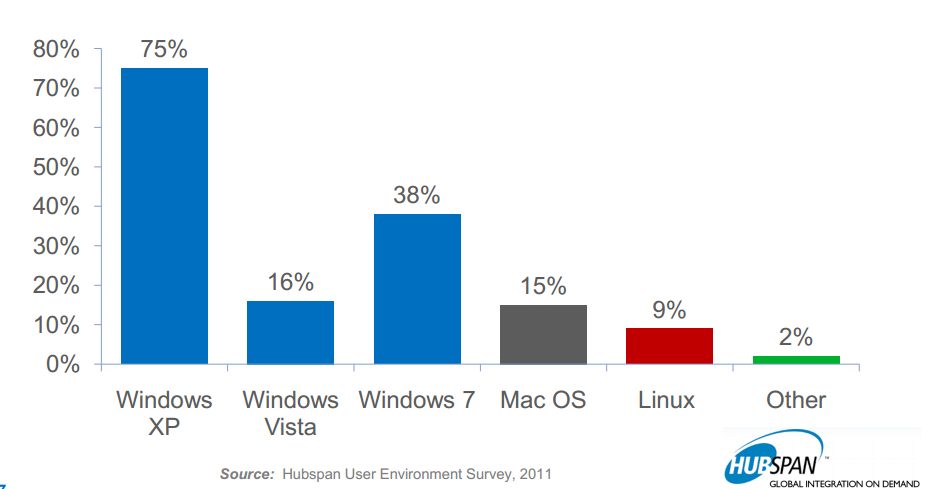 Despite Linux only claims 9% of total enterprise operating system it's exciting to note that all the "big" organizations and enterprises use Linux! Have a look!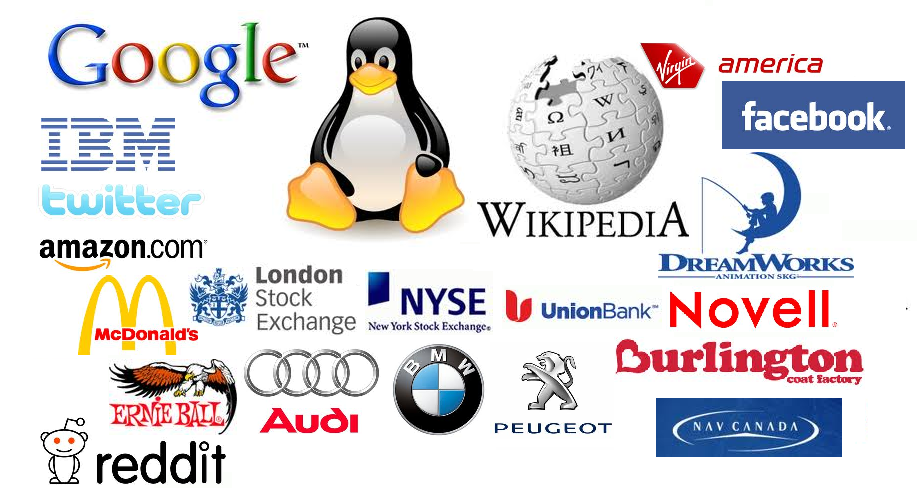 Google: Google's giant infrastructure comprises of Google Web Server (GWS) which is a  Custom Linux-based Web server that Google uses for its online services.
Popular car makers Audi, BMW and Peugeot use Linux for their sophisticated cars, engineered on high-end technology. Lets investigate in detail.
Audi:  The German automobile manufacturer Audi AG (a subsidiary of the Volkswagen Group) is known for producing most luxurious cars around the world.  The company produces and sells more than 829,000 vehicles annually under the Audi and Lamborghini brands. Audi has completely migrating its engineering systems over to Linux in past few years. Bulk of its servers and workstations are now running 64-bit Linux. Note that Linux is not only being used on server-side but also on workstations. Audi's luxury cars are engineered on Linux.
BMW: German car maker BMW is one the leading brand known for producing top notch luxury cars. The firm has used Linux for mission critical systems such as its large servers and and is still using the operating system since 2003. Last year the car maker also showed its intentions to use Linux for in-car entertainment. he company also created a TV advertising campaign: IBM supports Linux 100%
IBM: IBM is among the Linux foundation Platinum Members along with Fujitsu Ltd, Intel Corp.,NEC Corp., Oracle Corp., Qualcomm Innovation Center Inc. and Samsung Electronics Co. Ltd, Hewlett-Packard Development Co. LP, who each donate US$500,000 per year for the development of Linux. Also IBM uses Linux locally to supports its extensive computing demands. IBM also made an ad back a couple of years ago to show its support for Linux "IBM supports Linux 100%"
[youtube]Ihttp://www.youtube.com/watch?v=KwEWxpOWOok[/youtube]
Twitter: The most extensively used social media uses Linux on its servers to support huge data centers. Twitter receives as  much as about 2.8 billion tweets per day wit millions of users using the network from various devices every single second. In such a mission critical environment, Linux provides reliable computation.
Amazon: Amazon, yet another American based tech tycoon uses Linux to support its large infrasturcture.
DreamWorks: DreamWorks Animation are using Linux since 2001. They reportedly own 1,000 Linux desktops and over 3,000 Linux servers for their computation purposes.
Virgin America: Virgin America is an affordable airline based in America which uses Linux to power entertainment system provided with in flight. Similarly Nav Canada has based its popular internet based flight planning system on Red Hat Linux.
The London Stock Exchange deploys Linux based MillenniumIT Millennium Exchange software for its trading platform, while The New York Stock Exchange uses Linux for its trading applications. On the other hand Union Bank of California has standardize its IT infrastructure on Red Hat Enterprise Linux.
Large enterprises and organizations take advantage of the customization Linux offers therefore most of them roll-out their customized version of Linux distributions and optimize them according to their requirements. Nevertheless, the following table gives an information at glance as to which distribution is employed in businesses.