Introduction
ManageEngine ServiceDesk Plus is an open source help desk and asset management software provide and integrated platform where users of any organization can generate their request for IT resource, additionally it can play a key role in  performance monitoring and accountability of IT person. Basically there are two operational parts of this tools, first is IT assets management and second is IT  service tracking. System Administrators can keep track on organization's IT requirements and they can assign duties more efficiently.
Features
Some of the highlight modules of this ITIL supported tool are
Requests
In this module user send request for service support, then administrator can assign that service so any technician can be appointed to resolve the issue.
Assets
With the help of the tab Admin can easily track all of the assets distributed to various users on various locations.They can be easily categorized, like printers, cpu, software or other other accessories.
Solutions
This feature act as knowledge base for users so that users can resolve their issues something by themselves, when IT person resolve some issue they can convert these steps as knowledge for future use.
Configuration management database
Allow to track all of Configuration Item in a single repository so that  admin can manage them more effectively.
Purchase and Contract
You can create a new purchase order and can track that order at any stage of processing, with the help of contract modules you can maintain contracts between hardware or other support vendors,
Installation
Hardware requirement
for 200 nodes with 30 technical login a minimum of Ci3 processor, 4 GB RAM and 80 GB f hard disk space will be sufficient.
We will be using CentOS 6.5 for demonstration purpose, download the package from this link
# wget https://download.manageengine.com/products/service-desk/91677414/ManageEngine_ServiceDesk_Plus_64bit.bin
Change permission of package
# chmod +x ManageEngine_ServiceDesk_Plus_64bit.bin
Run setup
./ManageEngine_ServiceDesk_Plus_64bit.bin
There is an option either you can run installation setup in GUI or in text mode, for text mode type following
./ManageEngine_ServiceDesk_Plus_64bit.bin -console
For GUI, click next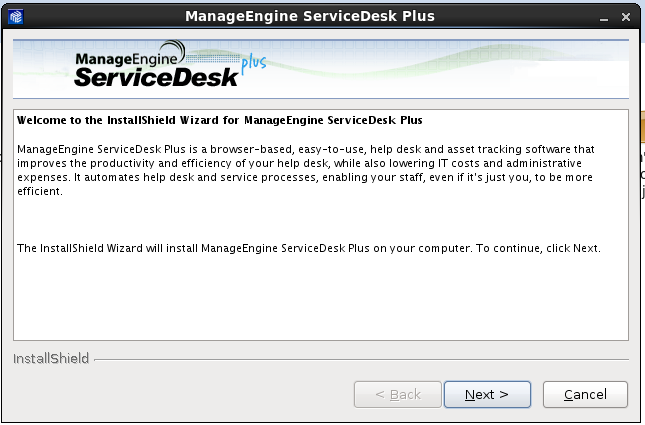 Accept user license agreement, click next
Select the version you are willing to install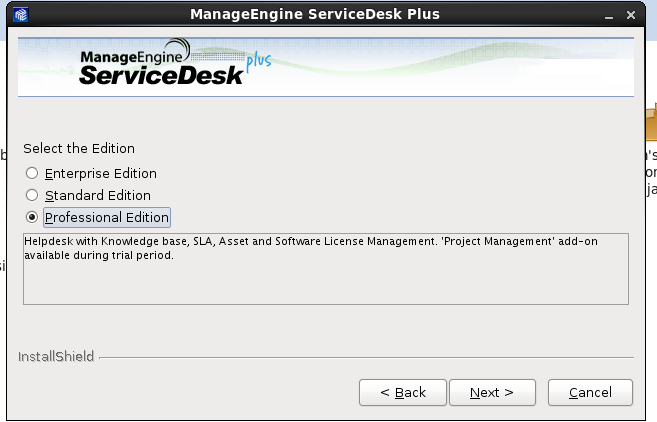 In out scenario we have selected free version of the package
Provide your personal details and click next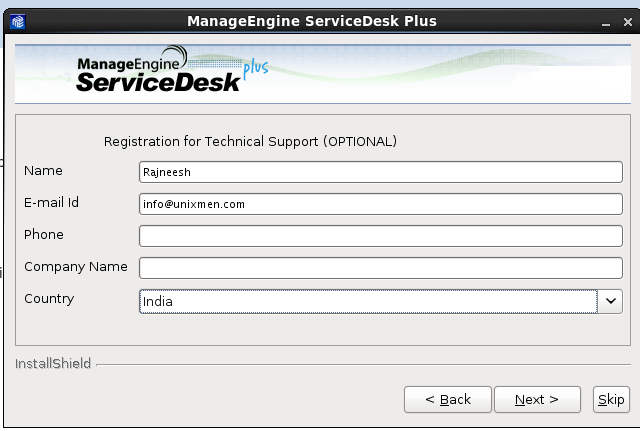 Note down location where the package will be installed, click next.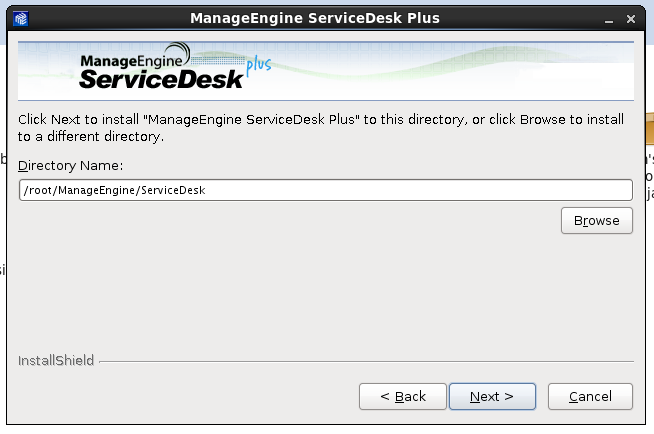 Define the porn number on which that web service will be available.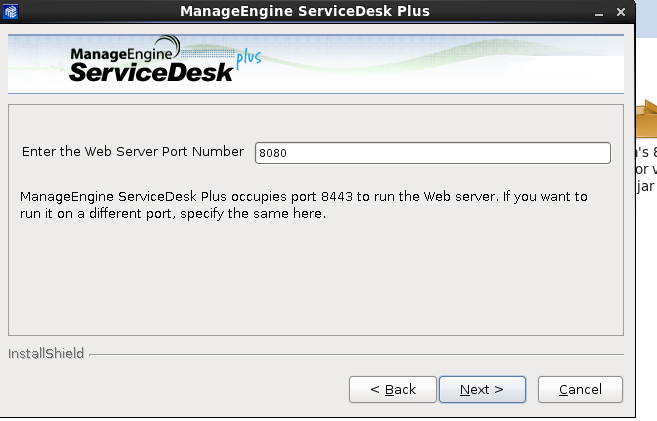 Create /etc/ as your installation directory, details of installation will look something like.
Finally start installation process and finish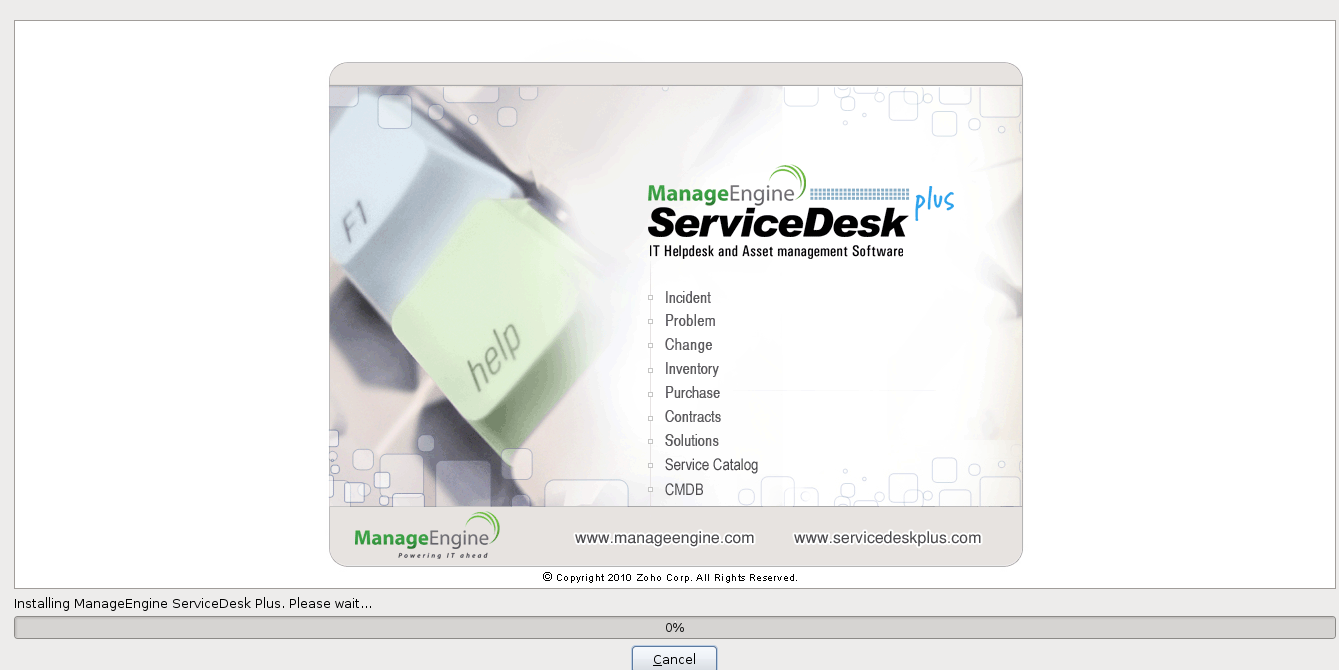 After installation is over close that window.
Open terminal and change directory
# cd /etc/ServiceDesk/bin
Run following command
# ./start.sh
When everything goes file, a message like below will appear
Server is starting. This may take a couple of minutes ...
ServerContainer                                   [CREATED]
SQLOne Search                                     [CREATED]
AdventNetCC                                       [CREATED]
AdventNetServiceDesk                              [CREATED]
ServerContainer                                   [STARTED]
SQLOne Search                                     [STARTED]
AdventNetCC                                       [STARTED]
AdventNetServiceDesk                              [STARTED]

Server Started.
Please connect your client at http://localhost:8080
Open Browser and type
<IP_ADDR>:8080
Login with the default user name and password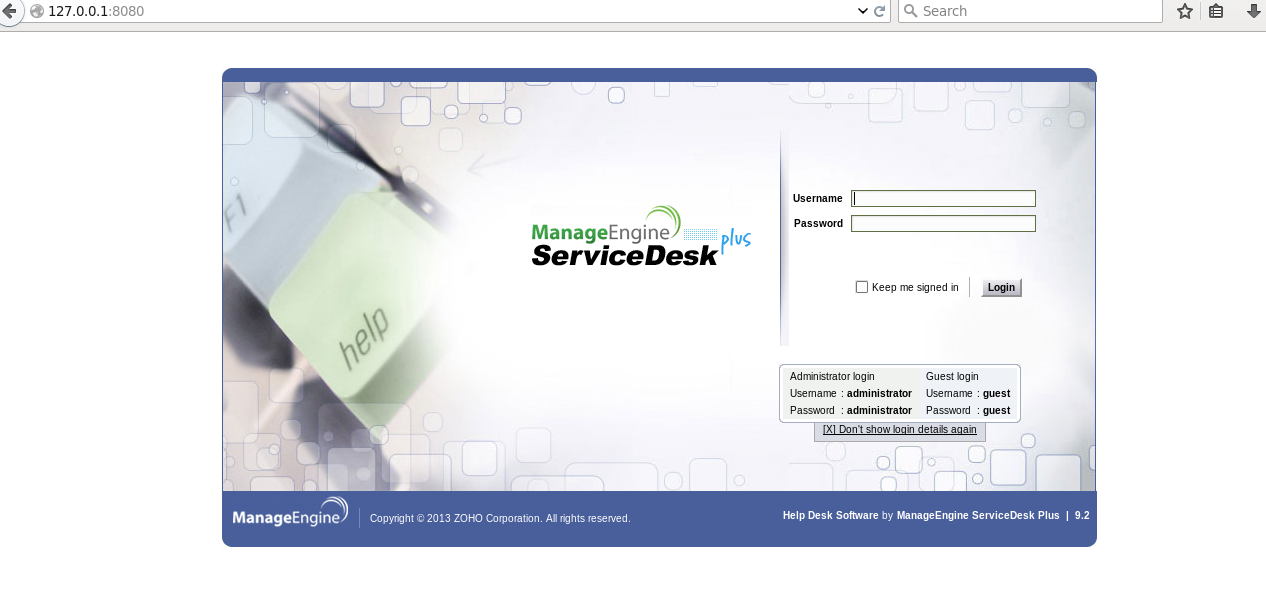 Login, a beautiful dashboard will appear, explore all service and user as per your need.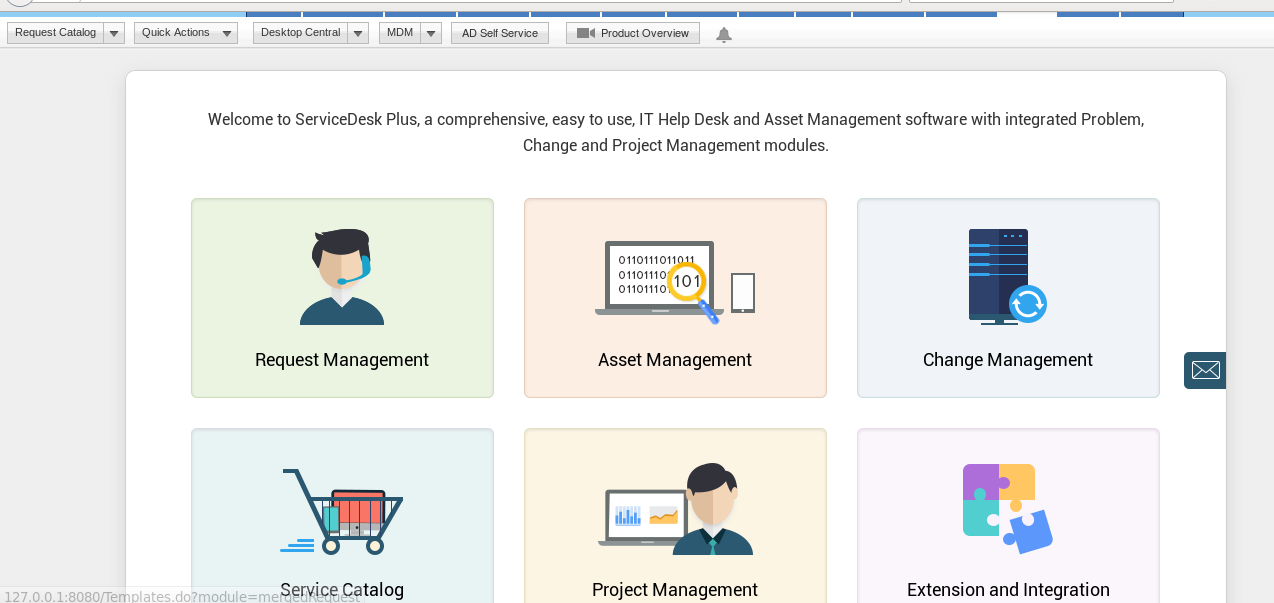 You can access all of the required modules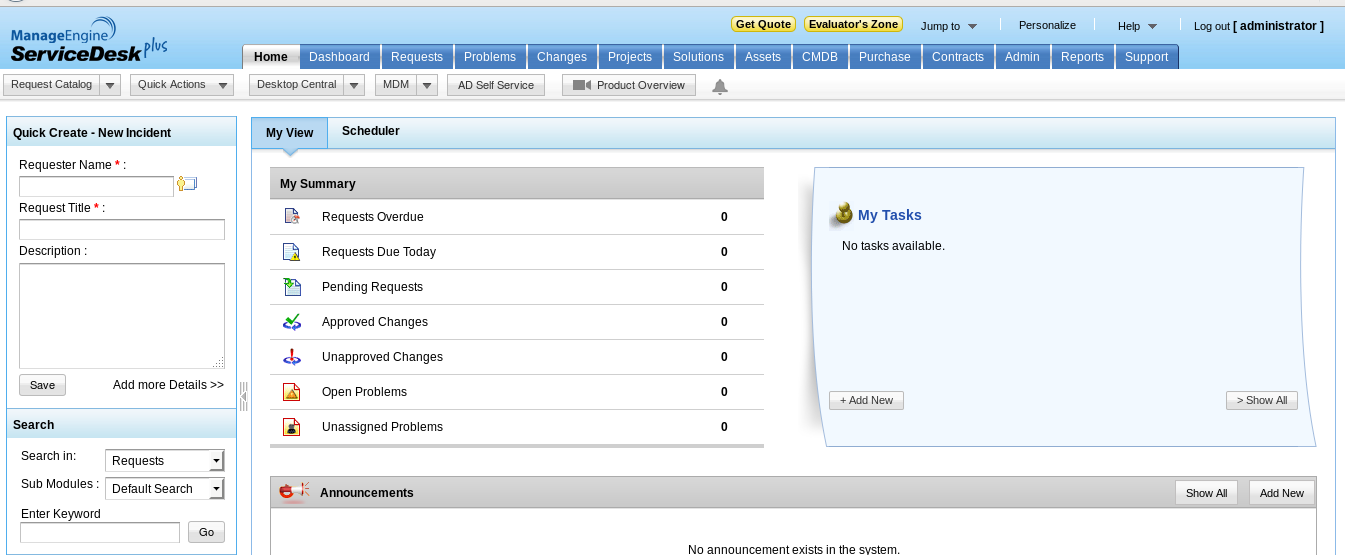 Let us create a ticket for Internet compliant as an guest user. Click to problem tab, select reported by user, define level of problem, and priority, provide descriptions about the problem and submit.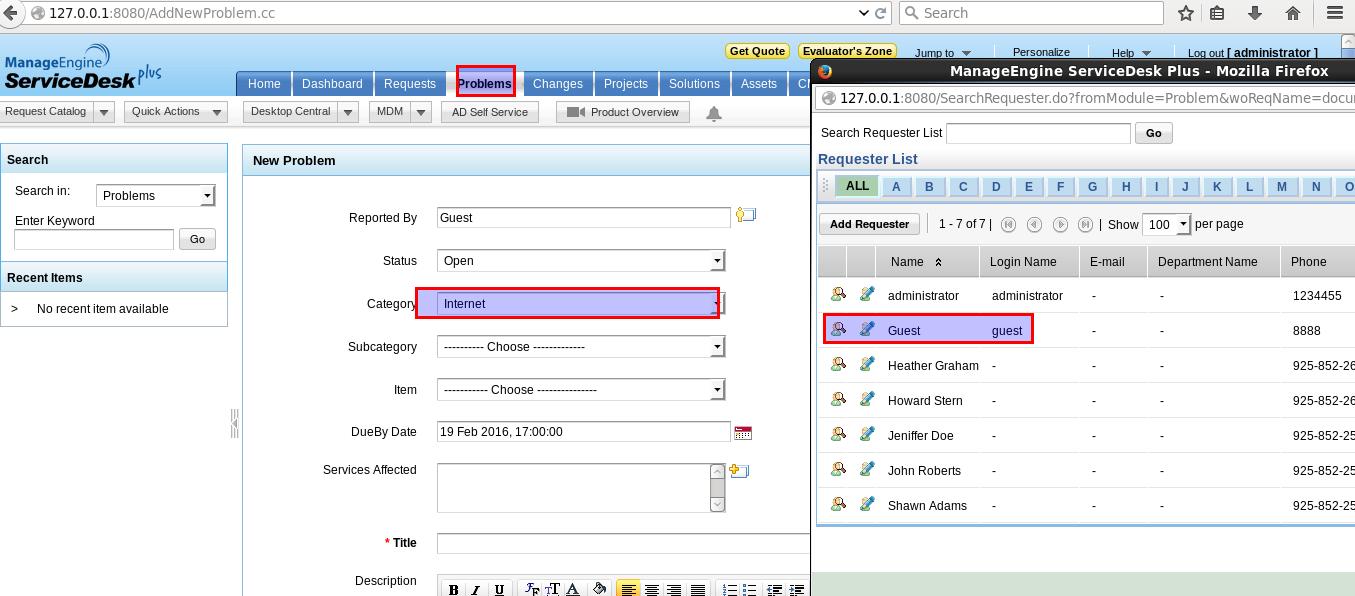 Now this problem will be updated to the dashboard of administrator. Administrator can assign that complaint to any one of the IT person, as per the nature of compliant. Status of the tcket will remain open till the matter is solved and submitted by the technician.

Conclusion
This package is a must have application for organizations looking for a low cost but effective ticketing system, even this package will be helpful for organization willing to deploy ITIL standards.
That's it for new, have fun!!