The best Humble Indie Bundle ever compiled has arrived yesterday, raising the Linux gaming experience once again. All the games are cross platform, you can pay whatever you want and help charity with your purchase.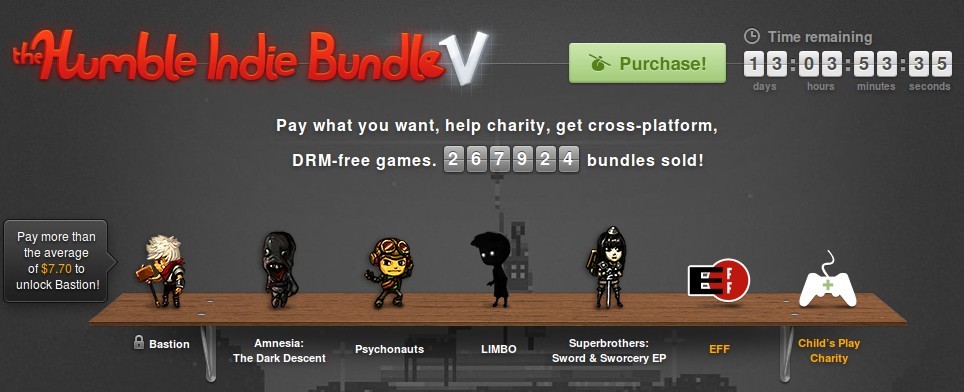 Amnesia: The Dark Descent
Amnesia: The Dark Descent is Frictional Games' first-person, survival horror masterpiece, pitting a weaponless protagonist against the darkest secrets of the castle he's trapped in. With an emphasis on puzzle-solving and maintaining sanity amidst unspeakable abominations, Amnesia's tense adventure breaks new ground for a well-loved, but challenging genre.
[youtube]http://youtu.be/u1nY_5-UrY4[/youtube]
Since this game is not new to the Linux gaming world, I suppose most of you have already finished it. It is the best horror adventure game I've ever played, and if you haven't now is a good chance to do so. Don't forget that Frictional Games is going to release the second episode this year, called "A Machine for Pigs".
LIMBO
The captivating puzzle-platformer LIMBO is a modern classic, putting players in control of a boy's journey through a tense and hostile world. The protagonist is as fragile and hardy as you'd expect of a young kid, making for a novel and sometimes surprisingly intense adventure. With incredibly tight platforming, detailed 2D graphics, and well-designed puzzles, LIMBO has rightfully earned critical and popular acclaim for the Danish indie studio, Playdead.
[youtube]http://youtu.be/Y4HSyVXKYz8[/youtube]
Many people believe LIMBO to be the best indie game ever made, and this alone makes the arrival of this game to the Linux platform a big success for this Humble Bundle.
Psychonauts
The acclaimed action-platformer Psychonauts bears all the marks of a mad Tim Schafer/Double Fine creation: a zany premise, standout characters, and fun-above-all gameplay. In Psychonauts, you play as Raz, a psychically gifted kid at a summer camp-slash-training facility for mentalist super agents. When the camp falls to a dastardly deception, it's up to Raz to traverse through the minds of various camp characters to save himself and his friends.
[youtube]http://youtu.be/q8dpmHqqOIg[/youtube]
Superbrothers: Sword & Sworcery
Superbrothers: Sword & Sworcery EPdelivers a completely fresh adventure gaming experience, defying conventions to develop a unique kind of storytelling. The plot is unveiled in "sessions," each of which involves traveling through the countryside and solving puzzles and combat challenges. Every scene overflows with rich graphic and auditory details, featuring distinctive artwork by Superbrothers Inc. and music and sound composed by Jim Guthrie.
[youtube]http://youtu.be/j-W5nQQPiAQ[/youtube]
Bastion
For those of you who will pay more than the average (7.64 usd right now), you will get Bastion too.
The action-RPG Bastion won over the gaming public with its incredible attention to every detail—from the tight combat controls, to the inspired, narrator-driven storytelling in a novel, post-apocalyptic fantasy world. Players take on the role of the Kid, entrusted with the thankless task of restoring the world after a disastrous calamity. With a none-too-small arsenal of stylized weapons, jaw-dropping art, and amazing music, Bastiontruly deserves its reputation as a must-play indie game by Supergiant Games.
[youtube]http://youtu.be/mX48y24t9iU[/youtube]
If you bought all these games and soundtracks separately, it would cost around $110! These are five incredible games that will keep you amused for a long time and definitely worth your money and your time from any perspective. Have a fun gaming weekend everyone!