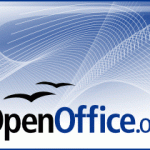 OpenOffice.org is an open-source software suite which is made with help from people all over the world and is currently used in governments, business, education and non-profit organizations. It is free of charge and you can use it for any purpose. It is used for:
Word Processing

Spreadsheets

Presentations

Graphics

Databases
The most important thing is that it is open-source and widely used. If you have any friend that needs OpenOffice.org, feel free to share your copy with him/her. OpenOffice.org offers you a great opportunity to learn and practice new skills by getting involved with the OpenOffice.org project. The goal of this article is to teach you how to install OpenOffice.org in Backtrack.
Open a new terminal window and type 'sudo apt-get install openoffice.org' like shown in Figure 1.
Figure 1 – Installing OpenOffice.org in Backtrack
Now press ENTER on your keyboard and wait for the software to install. While the installation is finished go to Office and you can check if the suite is installed correctly.