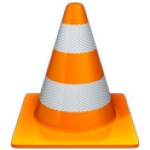 VLC player by VideoLAN, the popular cross-platform opensource multimedia player, is already a sweetheart for Linux users, particularly. And now to our delight, VLC is available for Android phones!!  VLC port to Android paltform will play local video and audio files, also network streams similar to desktop version of VLC. VLC though yet in its beta phase has some impressive features to boast!
VLC (Neon Version) brough to Android by the VLC Mobile team claims  " [VLC for Android] plays most multimedia files as well as discs, devices, and network streaming protocols". VLC for Android also incorporate a media library housing your Audio and Video files enabling you to browse folders directly. The best feature is however the support for multi-track audio and subtitles. VLC for Android supports auto-rotation aided with the device accelerometer, aspect-ratio adjustments and of course, touch gestures to control volume.
At the moment, VLC for Android is only supported by a limited number of devices with a CPU ARMv7 that will support NEON. Thankfullye,  VLC Mobile Team promises to bring the immensely popular video player soon to other Android devices too.
VLC for Android is in its beta phase and intended for Hackers and Powerusers. The teams has put a disclaimer "It might kill your kitten, destroy your house and start the mayan apocalypse.Use it at your own risk. Have Fun! :)". Despite the limitation, the app has been downloaded over 600 times (in a matter of few hours) from the Google Play store here. The reviews so far are satisfactory and none has reported a fatal crash. We shall bring you a detailed hands on the media player as we play with it for some time.
Grab your copy HERE