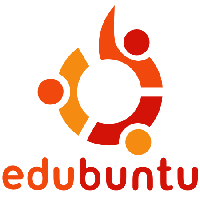 Edubuntu is a free and open source unix-like operating system which has been developed in collaboration with teachers and technologists in multiple countries. I think you get the idea what this ubuntu derivative is all about, it is about education. The name tells everything. Edubuntu is built on top of the Ubuntu base and its primary goal is to enable a learning environment at users aged 6 to 18.
Edubuntu gives everyone the chance to restore an old computer and set up a computer lab in an hour or less. Edubuntu is created with a very important goal in mind, even users with limited technical knowledge and skills should be able to easily administer the education learning environment. This statement of goals on the official Edubuntu Website: "Our aim is to put together a system that contains all the best free software available in education and make it easy to install and maintain." gives us all the picture. Edubuntu is all about education!
Short History
It all started in 2005 with the release of the first Edubuntu codenamed Breezy Badger. Then With the 8.04 Hardy Heron release of Edubuntu it was given the name of Ubuntu Education Edition and it was not an installable LiveCD anymore, it was an add-on to a standard Ubuntu installation. Everything changed with the release of version 9.10, Edubuntu changed to be available as a full system DVD and continues to remain as one. At the moment I am writing this article the latest stable release is Edubuntu 13.04 and the default user interface is Gnome.
Edubuntu comes with translations for many languages and it focuses on the educational needs of children all over the world. Visit Edubuntu's official website here.