Introduction
easyLife is a simple, open source tool that allows a new or experienced users to install and configure necessary applications, repositories, codecs, and games after a fresh Fedora installation. You don't have to manually search for every applications for daily usage. easyLife makes your Fedora as a complete daily usable desktop in few simple mouse clicking.
Features
This is what easyLife can do for you.
Sets "sudo" command up for your regular user;
Configures RPMFusion repository for extra and non-free software;
Installs Flash Player plugin;
Installs all kinds of Codecs (h264,divx,xvid,mp3 etc);
Installs nvidia and ati drivers;
Installs Skype;
Installs Sun Java and Sun Java Plugin for Firefox;
Integrates Sun Java with system-switch-java.
Installation
Install the following prerequisites first.
yum install wget yad usermode-gtk
Download the latest version from the sourceforge site. After downloading, go to the location where you've downloaded easyLife package, and run the following commands with root privilege to install it.
rpm -ivh easylife-4.2-2.noarch.rpm
Done!
Usage
Launch easyLife from menu or Dash. At the first launch, it will automatically download and install RPMFusion repository in your Fedora system.
This is how easyLife looks at first launch.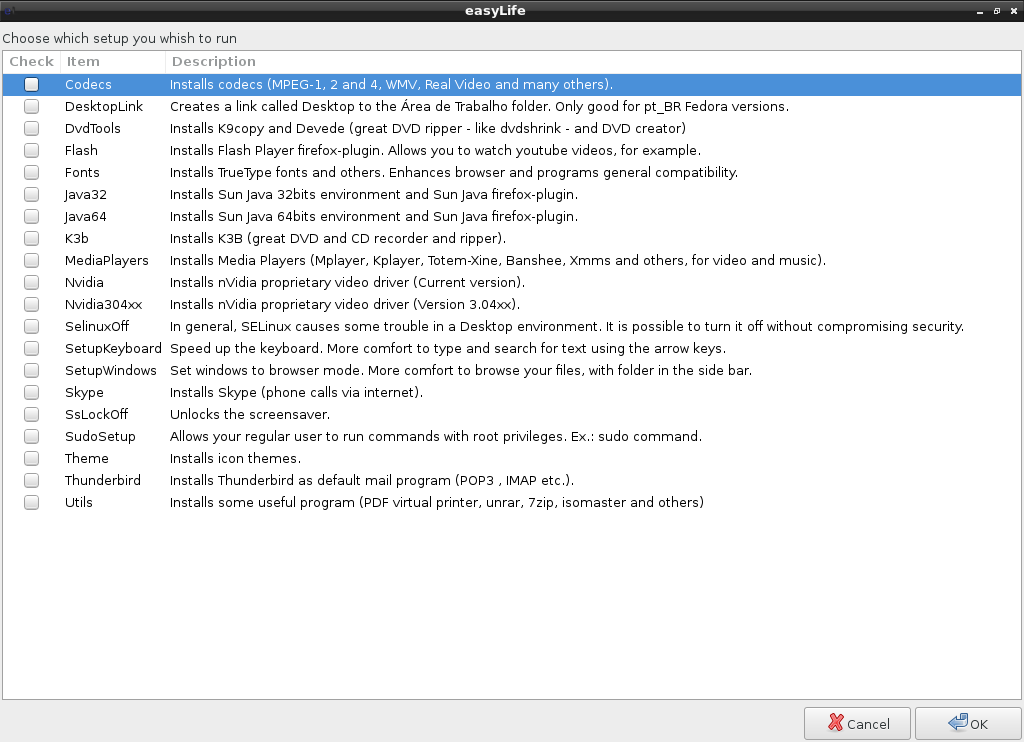 That's it. Now select the task you want to perform, and hit the OK button. easyLife will add the necessary repositories, download and install the selected packages for you.
easyLife doesn't has many options and features like Fedy or PostInstallerF. And I noticed that some times It closes automatically. Apart from that, it just works as it advertised. Hope you like this tool.
Cheers!
Reference: easyLife Homepage