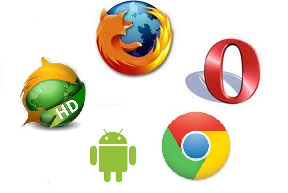 Independent web analytics firm,StatCounter, confirms that Google web browser Chrome has finally unseated Microsofts Internet Explorer and acquired the status of most popular browser for the complete month of May 2012. Now Google Chrome is worlds top Internet  browser. Congratulations to Google and millions of fans of Chrome ( myself among them)!
Friday, 1st June, Stat Counter reported that keen speculations during the month of May 2012, reveal that Google' Internet browser Chrome has finally surpassed the usage share of IE the default browser in Microsoft desktop OS for the complete month of May. Earlier in March, Chrome surpassed the usage share of IE for a full day and later achieved the weekly milestone on 21st May, emerging as the top browser for a week. Now, Google Chrome has defeated IE on monthly basis for the complete month May; that is, indeed a remarkable achievement.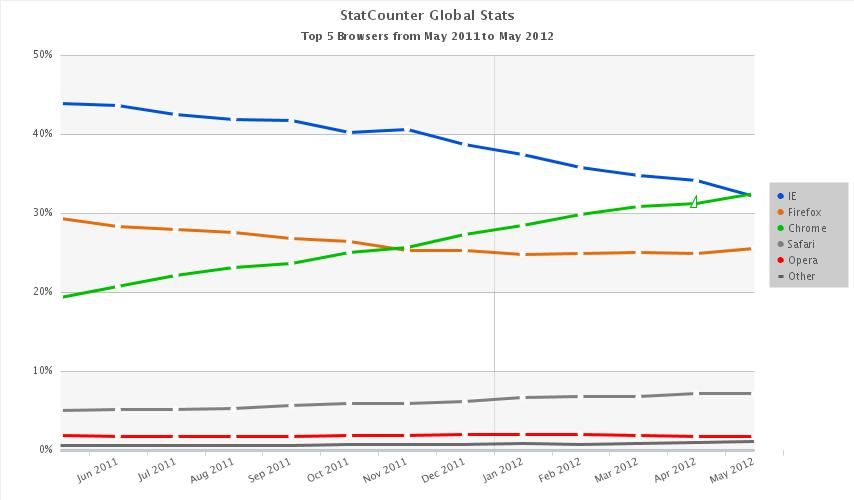 The research firm reports that over 15 million pages have been viewed in the month of May worldwide from which 32.43% pages were viewed via Chrome browser while 32.12% from IE. Firefox lags behind with a mere 25.55%.  However, interestingly, IE remains dominant both in US and UK.
Aodhan Cullen, CEO, StatCounter commented on this milestone : "While attention has recently been focused on the battle between Chrome and IE, not-for-profit Mozilla's Firefox with its loyal membership base should not be underestimated," He further noted that an upswing of over 0.6% in Firefox usage from April to May 2012 (apparently at the expense of IE) helped to push Chrome into pole position. "The browser wars are back with a vengeance," he added. "This time there are three major players competing for the top spot but, ultimately, the real winner will be the end user who can look forward to more choice and innovation as a result of this increased competition."
The browser war previously fought between Chrome and Firefox has now advanced to Chrome vs. IE. Chrome being the  Champ in both the frontiers! Undoubtably it is remarkable how the browser has climbed the market share in just a matter of few years, thanks to its speed, sleek interface and millions of add ons and games in the webstore!