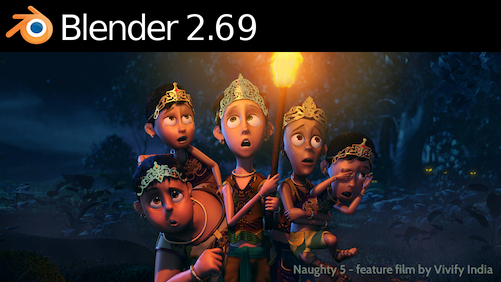 Blender 2.69 has been released! The new release comes with many new features, improvements and bug fixes. According to the announcement, in the new release " FBX import is now supported, along with improved export. New mesh modeling tools were added and existing ones improved. Cycles subsurface scattering and hair shading were improved, along with the addition of a new sky model, shading nodes and tone mapping in the viewport. The motion tracker now supports plane tracking, to track and replace flat objects in footage."
Installation of Blender 2.69 in Ubuntu 13.10 and LinuxMint:
Open terminal and use the following PPA:
sudo add-apt-repository ppa:irie/blender
sudo apt-get update
sudo apt-get install blender
– For other Linux Distros, download blender from the Link Bellow :
I made my own 20th Century Fox intro using blender, see video bellow:
[youtube]nSH4CGXLzPo[/youtube]
In my next tutorial, i will show you how to do this using blender.
Is done.