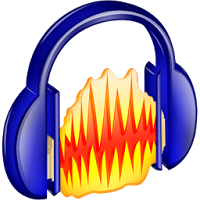 Hello guys, let me inform you about Audacity, the open source audio editing powerhouse which is well known in the Linux community. I have mentioned in my previous articles that everytime I present an app I will give some information about it, so every new Linux user can feel in a very warm and friendly place. Our primary mission is to help new Linux users and make them feel good in the open source world. What is Audacity?
Audacity is a free audio editor and recorder which can be used to record live audio, convert tapes and records into digital recordings or CDs, edit WAV, AIFF, FLAC, MP2, MP3 or Ogg Vorbis sound files and perform many other tasks. You can read about the full features of Audacity software in the list shown below.
Audacity Features
– Record live audio.
– Record computer playback on any Windows Vista or later machine.
– Convert tapes and records into digital recordings or CDs.
– Edit WAV, AIFF, FLAC, MP2, MP3 or Ogg Vorbis sound files.
– Cut, copy, splice or mix sounds together.
– Change the speed or pitch of a recording.
And more! See the complete list of features.
To be honest with you, audacity is not only for the Linux platform, it is also available for Windows, Mac OS X, GNU/Linux and other operating systems. A very good reason why you should take in consideration to use this software, is that it is a free software, open source and does the job very well. Another cool  and very helpful thing for non english speakers is the Audacity interface which is translated into many languages.
Are you a podcast producer? Do you plan to do audio editing in the future? If yes, then Audacity is the perfect tool for you. Now that Audacity 2.0.4 has been released you have more features for your daily audio editing and manipulation tasks. Many bugs have been fixed and a new effect called Reverb (based on Freeverb),  replaces GVerb on this release of Audacity.
Read The Audacity 2.0.4 improvements
– New Effect > Reverb (based on Freeverb), that replaces GVerb.
– New View > Go to Selection Start and Go to Selection End commands.
– New Tracks > Align End to End command to append selected tracks.
– WAV files import/export now supports "Album Title", "Track Number" and "Genre" LIST INFO tags and ID3 tags.
– (Windows) New support for Windows WDM/KS host which can provide very low latencies if you reduce "Audio to Buffer" in Recording Preferences.
– (Windows Vista and later) You can now record computer playback by choosing the new Windows WASAPI host in Device Toolbar , then a "loopback" input.
– Bugs have been fixed, involving Keyboard Preferences, Equalization curves, and Effect > Change Pitch, and several more.