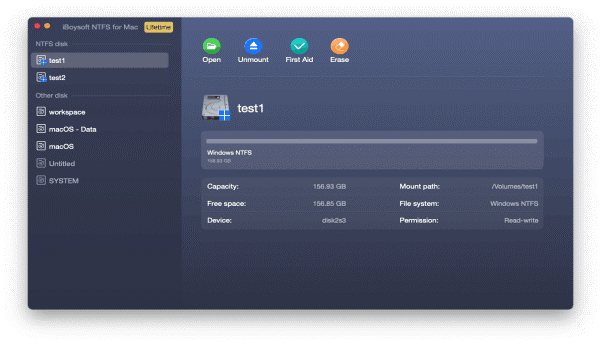 New Technology File System (abbreviated to NTFS) is a widely used file system on Windows. By default, you have direct read-write access to NTFS-formatted drives on Windows computers with no limitation. However, you will be given read-only permission on the NTFS disk if you insert it to a Mac machine, which is a great hindrance preventing you from editing, deleting, moving, and renaming files on the NTFS drive on Mac.
If you want to enable NTFS write support on macOS without formatting or using Terminal, you had better take help from either paid NTFS for Mac software or free NTFS for Mac, which is the quickest way to help you out.
What Is NTFS?
Released by the rival of Apple – Microsoft, NTFS is a proprietary journaling file system for Windows. It was introduced with the Windows NT version 3.1. Since then, it has become a standard file system for Windows. To help you have a better understanding of this file system, its benefits compared to the other file systems are given below.
Security Access Control: NTFS enables users to add permission to the data and perform data encryption.
High Performance: The NTFS file system works effectively and compresses every data that is encrypted in the system. This increases the available space and keeps the system smooth.
Disk Space Utilization: NTFS comes with Disk Quotas. This feature allows businesses to have monitored control over the size of the disk space.
Enhanced Reliability: NTFS follows the consistency of the data DNA and it can monitor and correct transient corruption errors in the background to provide you with a more stable environment.
File System Journaling: Writing system changes to a log or journal is available with NTFS. So, even if a disaster hits you causing you to suffer from data loss, you at least have the opportunity to recover the lost data.
Despite being one of the best file systems, NTFS is not fully supported on macOS. Hence, any data from the NTFS drive is shared with macOS, by default, the data is locked to read-only. In this instance, Mac users need third-party NTFS for Mac tools to write NTFS formatted drives on macOS.
What Is NTFS for Mac Software?
NTFS for Mac software is the tool that helps the user access and write NTFS drives on Mac directly without using the Terminal app or initiating disk erasure. Lack of NTFS for Mac software, accessing NTFS data on macOS might seem more difficult. And even if you can read and write the NTFS drive in other ways, data loss can't be completely avoided.
To make it more straightforward, NTFS for Mac software is a small-sized NTFS reader and writer helping you deal with the NTFS drive read-only on Mac issue to make the NTFS drive writable on macOS.
A List of NTFS for Mac Software (Both Paid and Free)
iBoysoft NTFS for Mac (Free Trial)
As one of the top NTFS for Mac software, Microsoft NTFS for Mac by iBoysoft is known for its compatibility, high performance as well as multi-functionalities. This NTFS for Mac application supports multiple operating systems ranging from macOS 10.13 to the latest macOS 13. In addition to that, it is fully compatible with Intel-based Mac models, T2 Mac models, and M1 Mac models.
Equipped with advanced technology, iBoysoft NTFS for Mac enables you to proceed with file transfer at a very fast speed, giving you the experience where you are using a local HFS+ or APFS drive. Moreover, this program builds in a disk manager to manage all drives attached to your Mac with a few clicks even if it is a non-NTFS drive. Its core functions are introduced as follows:
– Read and write NTFS drives on Mac
– Mount NTFS disks on macOS in the read-write mode without manual mount
– Support erasing a non-NTFS drive to NTFS on Mac
– Format an NTFS disk to clean up the data
– Diagnose and repair errors on NTFS drives
– Read and write to a Boot Camp partition formatted with NTFS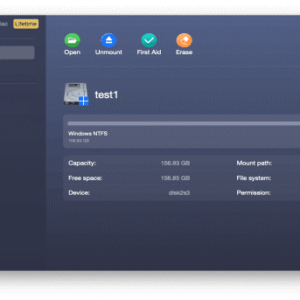 Paragon NTFS for Mac (Free Trial)
Paragon NTFS for Mac is an NTFS for Mac mounter designed to grant you full read-write access to your NTFS drives on Mac. This utility supplies a user-friendly and modern interface, making your writing to an NTFS disk on macOS Sierra and later versions easier. Keep reading on for more functions:
– Offer a 10-day free trial version
– Read and write NTFS disks on Mac at a blazing fast speed
– Support NTFS disk repair
– Present a seamless user experience owing to the intuitive UI
– Be armed with advanced mount options including the Mount in read-only mode option and the Do not mount automatically option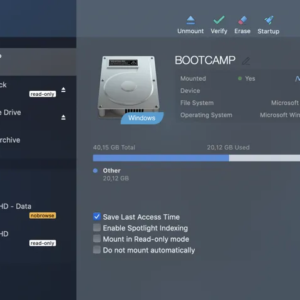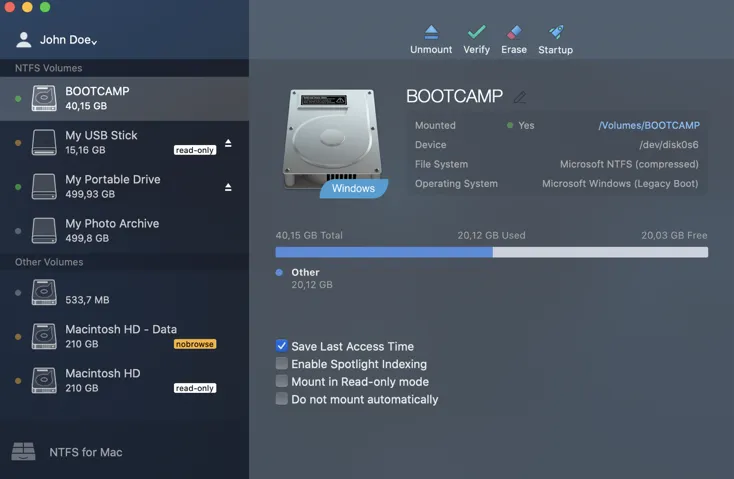 Mounty for NTFS (Freeware)
Mounty for NTFS is a completely free NTFS for Mac tool specializing in re-mounting write-protected NTFS drives in direct read and write mode on macOS from Mavericks to Monterey. This application takes full advantage of the built-in mechanisms supported by macOS, so no third-party drives will be installed but you can enjoy NTFS write support on macOS in a breeze.
Mounty for NTFS has a simple interface with no decorations. Once launching it, you can easily find the software interface just shows the remounted NTFS drives that were mounted in read-only mode first and then mounted again and listed in the Finder window with complete write access.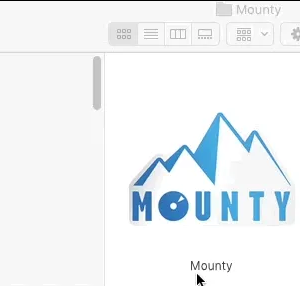 NTFS-3G (Freeware)
NTFS-3G is a 100% free and command-line based NTFS for Mac utility developed by Tuxera, which can be used on different operating systems, including macOS, Linux, Android, FreeBSD, and more to enable NTFS write support. If you are hunting for an NTFS for Mac program compatible with a variety of operating systems, NTFS-3G can come in handy.
Was This Helpful?
While we are talking about NTFS for Mac software that helps to solve the NTFS read-only on macOS situation, it can get confusing with the sheer number of options available in the market. If you are facing the same scenario, you can learn about the aforementioned applications and select a suitable one.