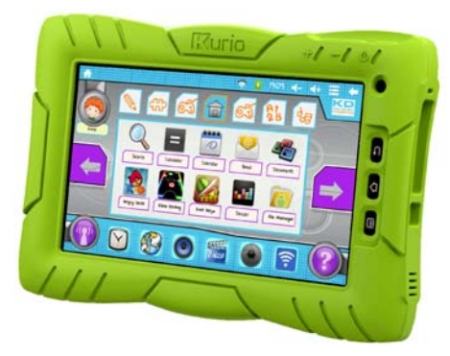 Tablets have not been around for more than three years; iPad being introduced in 2010, however they seem to have become an integral component in our daily computing.  Tablets are being used for virtually myriad purposes from reading to watching movies, from surfing internet on the go or simply gaming. Ever since tablets have been introduced, their potential as young one's education tool has been keenly investigated. Today tablets are deemed as an important tool to improve child's intellect and boost creativity. This is why iPads have not only been deployed in businesses, but also in number of primary schools and kindergartens. So why not get your child a tablet these holidays?
A couple of months back when I searched over the internet for kid's tablet for to gift a toddler, I found out that just like the adults tablet market is dominated by the iPad the kid's tablet industry is ruled by two tablet LeapPad (by LeapFrog) and InnoTab (by VTech). Each of the tablets comes with its own OS customized for children in particular; this has both advantages and disadvantages. As a parent (or for that matter aunt or uncle) you have two choices either to opt for one such tablet or for an Android based tablet customized for children. Let's have a quick look at what advantages you can expect when you opt for Android based kids tablet than any other.
With an Android based tablet you can virtually access any app on your tablet (most of the times) in contrast to limited apps in a particular app store. For example in case of LeapPad you can access hundred+ games and activities via dedicated LeapPad app store.  On one side you get quality apps that are specially made for children on the other hand you might find yourself paying too much for the apps. Also as your scope is limited you won't be able to download any app outside the app store. Android store today features quite many apps for children and some note-worthy apps are free! Good Apps from Google Play may be as much as 5 USD while that within LeapPad store start from 5USD and go up at 20USD. Android tablets for children mostly integrate parental control, ability to set profiles, download apps and usually children oriented content from dedicated manufacturer's store. Also just like LeapPad the most of the tablets come with shock sustainable smart covers! And the final concern is the price. With Android you get variety both in quality and price. You can go for a top notch android tablet and pay more for it or get a cheaper tablet with corresponding lesser features. Something you cannot expect with LeapPad or InnoTab. They come with a high price tag and are a continuous investment in terms of apps!
That's not to say LeapPad or similar tablets are any lesser in quality but Android tablets you get more flexibility and choice. Additionally, if you are doubtful if your toddler is big enough to handle a tablet or benefit from it completely you can get a cheap one and try it! Now let's move on to the top nine Android based children tablet.
Here is a handy chart for tablet spec comparison:


Lets have a quick look at each tablet:
Arnovo Child'sPad
Goodies: Blue Band Around the screen for protection, Non-slip rubberized Back, Parental Contro\Games, Learning, Entertainment, Video, Music, Gallery and Puzzles & 30 pre-installed apps.
Pros: A reasonable tablet with an affordable price tag, decent design and robust and brings goodies enough to satisfy children!
Cons: Parental Control is free for first 6 months and shall cost around 19.98 GBP annually. Default Parental Control settings are not very good. Parental control required hardwork such as blocking all the websites and adding one by one manually to ensure no access to unwanted content. Browser of the tablet cannot be turned off. Camera is out-dated however earlier version of LeapPad also featured a similar spec camera. Do not expect the fluidity of the tablet to match that of your Samsung Galaxy Tab, after all its lot cheaper!
Goodies: White plastic rim for protection, Soft Silicon Rubber Bumper skin for drop-protection which also looks trendy. Independent User profile (independent themes, picture, and content filtering applicable on different profiles) that is every sibling can add personalized Content and feel to a single tablet.
Pros:
Flash: Kurio 7 supports Flash 11. This is one really great feature as most website for children render interactive content in Flash.
Kurio Android Market Space: With the tablet you can access apps from Kurio Android marketplace which houses all the applications from native android market that are targeted for children. The collection is specially accumulated by staff at Kurio ensuring that each app is safe and its content is family-oriented. Besides you will also be able to access Android market place.
Parental Control: Very capable Parental control which is highly customizable therefore you can set it according to your will and give your child as much access to the internet as you wish. The tablet feels sturdy and built in apps are worth trying out.
The tablet comes preinstalled with premium (ad-free version) of popular apps like Angry Birds™, Fruit Ninja™, Doodle Jump™. Educational content includes E-books through Aldiko Premium, educational content from Mr. Nussbaum, interactive activities, and much more!
Cons: Interface is buggy. There are few interface glitches that can be frustrating. Despite the tablet boosts a decent processor it becomes sluggish especially when running high-end devices. Also the tablet won't load very extensive websites which use Flash. Videos are also slow to play and the tablet becomes unresponsive sometimes. Video playing can drain battery substantially. One of the noteworthy drawback is the poor screen and low resolution.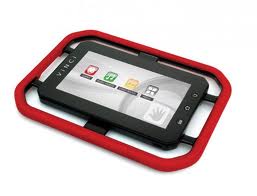 Goodies: The tablet is embedded in a handle like-case rater than bumper like case. As the tablet is targeted at toddlers than young children, it's handle like cover is coated with non-toxic material in case children take it in their mouth. The VINCI tablet comes with content which is developed around special curriculum which covers Thinking Skill, Emotional/Social Learning, Maths/Logic Reasoning, Language, General Knowledge, and Science. These special apps are designed to run only on VINCI Tab that means it houses exclusive content you will not find in other tablet.
Pros: unlike other kids tablet the Vinci tab is especially targeted for young toddlers and comes loaded with decently researched apps than casual ones found in ordinary market space. VINCI Tab II works in conjunction with the world's first developmentally- designed digital learning curriculum, comprised of a series of age specific learning apps and assessment tools. Besides the OS and Apps, the screen is very responsive and the gesture registration is efficient.
Cons: Over all built quality is not sturdy. The display is better than other kid's tablets nevertheless it's not perfect. The display is prone to glare and glitters. The tablet runs a forked version of Android 2.3; remember Android 2.3 is mainly aimed for phones and not tablets. However by far the most significant drawback of the tablet is the price it carries.
Tabeo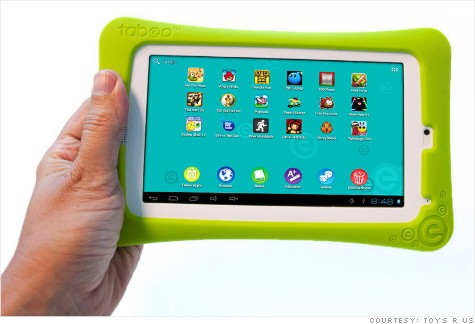 Goodies: Bumper case, includes parental control and kid-safety features, 50 popular kid-friendly apps. Designed specially keeping
Reactions: Tabeo by Toys-R-Us—the leading kid's toy store made headlines in top tech blogs including WSJ.  Although the tablet got a lot of hype from top tech blogs however the media dust seems to have settled now and parents are finding that there are tablets that pack a powerful hardware in the same amount. However when purchasing a tablet for your kid you might want to consider Tabeo as a potential tablet.
Meep

Meep by Oregon Scientific is a kid's approved tablet comes with bumper and bunch of pre loaded with 50 apps, ebooks, cartoons and games. The tablet houses Meep! Store with contains apps targeting kids. The tablet also comes with decent parental control. With MEEP Chat app parents can not only chat with their kids but will also be able to monitor instant messages sent and received from the device. Meep tablet is rated among the Hottest tablet for kids by Forbes.
Nabi Tablet (2)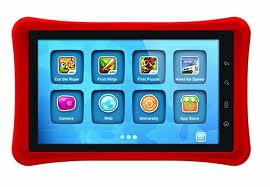 Goodies: The Nabi tablet comes with red rigged bumper with rounded corners for drop protection. You can also get supplementary colorful bumpers with an additional cost of 30 dollars. The tablet comes with content for children just like other tablets. In Fuhu App Zone (2.0) app store on your tablet you can find 500 apps approved as suitable for children and carefully separated into categories like entertainment or education. You can also filter apps by age. The tablet supplies Up to 7 hours of battery life that guarantees plenty of entertainment on your way!
Pros: Nabi 1 and 2 are one of the most famous kids tablet powered by Android. With quad-core 1.3GHz Nvidia Tegra 3 processor, HDMI, SD card slot the tablet is a capable device apart from just being a kid's gadget. Te tablet has rugged built, solid and comes with nice collection of preloaded content. The performance of the tablet is considerably fluid and the device is very responsive something your kids would love.
Cons: The tablet is overly heavy that can be significantly difficult for a child to carry it. Also the bumper is easily removable so children might be able to uncover it easily.
Intel StudyBook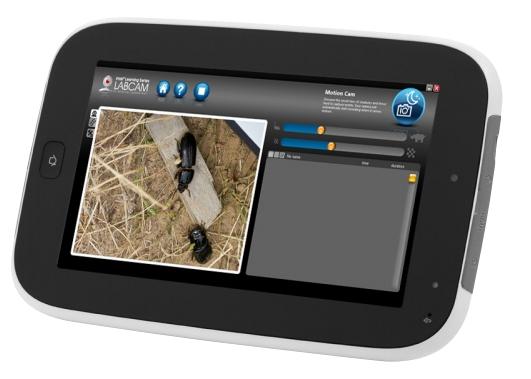 Intel Studybook is targeted for older children than young toddlers. Its far more than a playful tablet. The device is aimed to remodel young minds and truly become children's partner for their study whether it be lab or theoretical classes. Powered by low-voltage Atom Z650 the tablet delivers a fine performance with Android honeycomb (the tablet also comes with a flavor of Windows). The best thing of the tablet is that it supports full USB port to augment wide range of lab software and hardware connectivity. According to intel "Studybooks will enable schools to provide observational and investigative tools for many more students". This is evident as the studybook is supported by great educational software/hardware/content ecosystem of intel.
Kineo
Kineo tablet was announced by Brainchild at Florida Educational Technology. The tablet is built and programmed specifically for use in the classroom. The does not have cameras and has disabled texting feature. Parental control/administrator can control the applications downloaded and deleted and the websites that can be viewed on tablet.
Kuno

Declared by Cnet as the biggest competitor of iPad in the educational space, kuno by CurriculumLoft is a decent 10 inch tablet with respectable internals. Cnet has also reported that "San Felipe Del Rio District in Texas deploying 1,600 Kuno tablets instead of iPads, Wise County Public Schools (Virginia) rolling out 600 Kunos, and William M. Bass Elementary (Virginia) and Morton District (Illinois) both using about 100 Kunos in their classes". The Kuno tablet is yet another tablet to replace heavy bag-packs and number of text books. The tablet aims to be companion of children in every day classroom.
Nearly all the Android tablets for kids are full-fledged tablets featuring a respectable processor with HDMI, MicroUSB and a few of them also feature USB 2.0. That is to say they are full-fledged tablets that can be used in more fruitful ways.