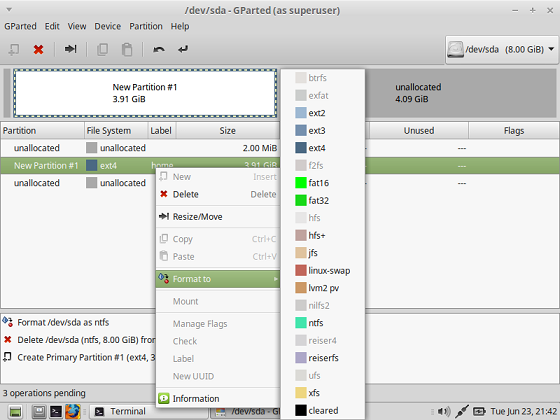 4MParted 13.0 Beta release has been made available a few hours ago for downloading and testing. This version combines GParted 0.22.0 and used 4MLinux 13.0 as the base system. 4MParted 13.0 Beta is available in a small ISO image with a size of nearly 35 MBs and becomes one of the major releases of 4MLinux. As it includes the GNOME Partition Editor which is known as GParted and 4MLinux as its base distro, it is collectively called as 4MParted.
What is 4MLinux?
4MLinux is a very tiny and small-sized Linux distribution which focuses mainly on the followings:
i. Maintenance (system rescue Live CD)
ii. Multimedia (e.g. playing video DVDs)
iii. Miniserver (using the inetd daemon)
iv. Mystery (collection of Linux games)
Because of these 4 Ms, it is known as 4MLinux, the demo and the latest release is available on the main site.
Features of 4MParted 13.0
Let's have a look at the introduced features of 4MParted:
i. It is specially designed for disk partitioning being a part of 4MRescue kit.
ii. It includes the GNOME Partition Edition usually called as GParted which is GTK+ front end to GNU Parted.
iii. It supports all the major file systems like ext3, ext4, fat32, ntfs, linux-swap etc.
iv. It is available in a very small size in MBs.
v. It can be installed very easily and so quickly and the following actions can be done on the disk:
a) Creating a new disk
b) Resizing the disk, or moving it.
c) Check and label
d) Copy and paste
Installation
4MParted 13.0 being a mini OS, it just needs a boot and it is ready to install. If you want to test it, it is recommended to create a VM with the help of Virtualbox and setup to play with it.
Download the latest release of 4MParted and boot it. Here is the first screen you will see: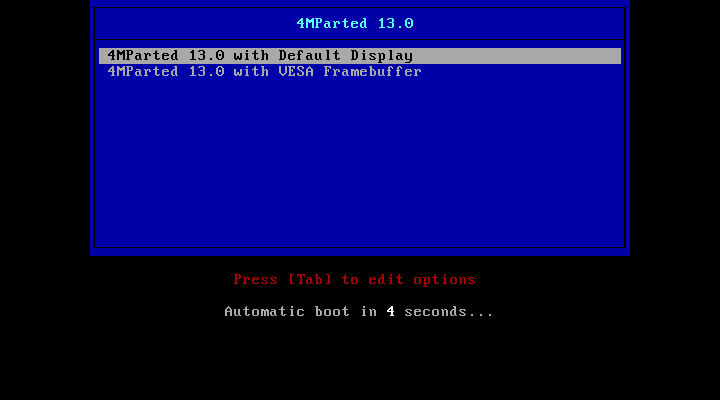 Once successfully booted, you would be able to manage the partitions. The major functions are briefly described as well.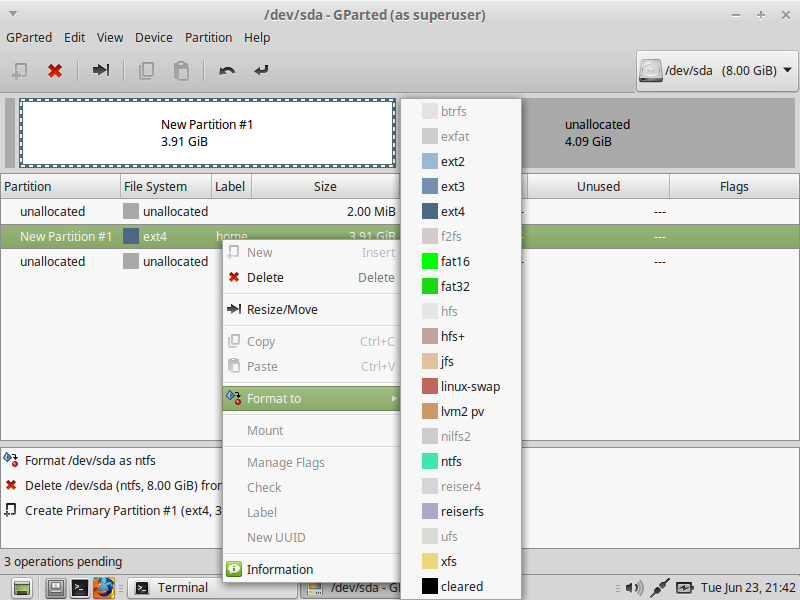 Enjoy a variety of actions on the File systems that are now supported by 4MParted 13.0.
Conclusion
4MParted as the GNOME Partition Editor is free, open source and available in a very tiny size. It helps users to resize, move, merge, copy, create, remove or check the hard disk drives or solid state drives supporting a no. of file systems. I loved working around with it using Virtualbox and would highly recommend to try it 🙂