Openshot : The magic has arrived
Openshot is a video editor for linux, is one of the best ones existing actually for linux. The news is that now has a PPA this mean easy install for Ubuntu users, but the big news is that the new version come with 30 new effects. See the video demonstration what you can do with Openshot.
OpenShot Video Gets Effects!!! from Jonathan Thomas on Vimeo.
The new effects include:


Black and White

Blur

Glow

Mirror

Old Grain

Pixelate

Water

Sepia

3 new audio effects make it into the latest release, too: -



To install Openshot in Ubuntu jaunty and Karmic please add the lines bellow to your source.list file
open terminal and type :
gedit /etc/apt/sources.list
Or go to System–>Administration–>Software Sources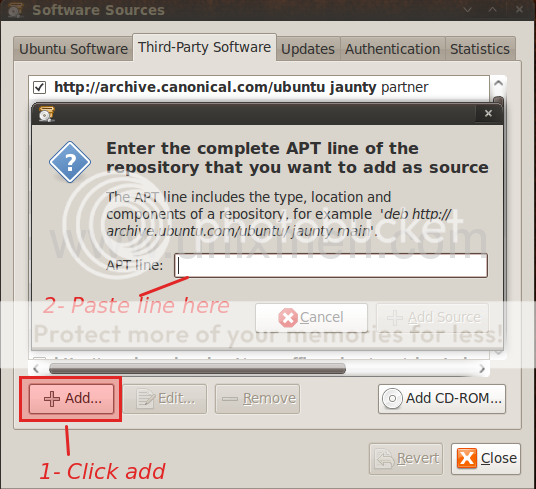 and add the lines :
Ubuntu 9.04 (Jaunty)
deb http://ppa.launchpad.net/openshot.developers/ppa/ubuntu 

jaunty

 main
deb-src http://ppa.launchpad.net/openshot.developers/ppa/ubuntu 

jaunty

 main 
Ubuntu 9.10 (Karmic) use the repository command to add the repository

. sudo add-apt-repository ppa:openshot.devellopers/ppa
Now add the verification key :
sudo apt-key adv --keyserver keyserver.ubuntu.com --recv-keys B9BA26FA
Then type the command :
sudo apt-get update 
Now install openshot
sudo apt-get install openshot
Click on the photo`s to enlarge.
and is all :)
---
Links :
For questions please refer to our Q/A forum at : http://ask.unixmen.com/
Like us on Facebook
Donate to Unixmen
We need your assistance to stay live
This week Top Posts
Recent Comments
Favorite Links
This work by
unixmen.com
is licensed under a
Creative Commons Attribution-NonCommercial-NoDerivs 3.0 Unported License
.