Install the latest version of Wine in Ubuntu
Wine is a free software application that aims to allow Unix-like computer operating systems to execute programs written for Microsoft Windows. Wine also provides a software library known as Winelib against which developers can compile Windows applications to help port them to Unix-like systems.
Now  lets  start , first  open a terminal and  under  root    :
Add Repository's Key first
#wget -q http://wine.budgetdedicated.com/apt/387EE263.gpg -O- | sudo apt-key add -
Add Third Party Repository
#   Go to System > Administration > Software Sources and Select Third-Party Software tab ; Click ADD. Now Copy and Paste the Repo from the following list, which depends on the Version of  your Ubuntu .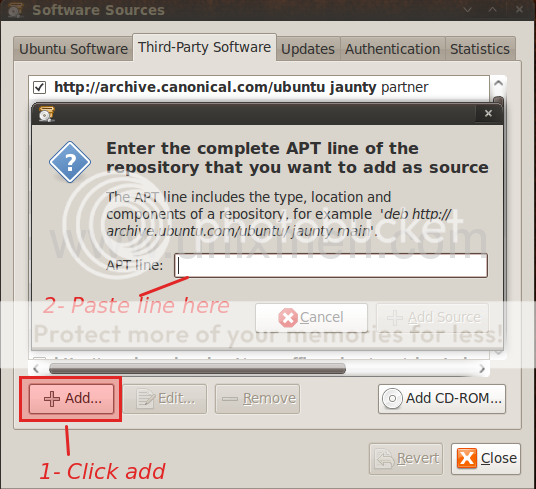 For Ubuntu Jaunty
deb http://wine.budgetdedicated.com/apt jaunty main #WineHQ - Ubuntu 9.04 "Jaunty Jackalope"
For Ubuntu Intrepid
deb http://wine.budgetdedicated.com/apt intrepid main #WineHQ - Ubuntu 8.10 "Intrepid Ibex"

Now  under  root . perfome  these  command  to update  aand  download  latste  version of Wine
sudo apt-get update
sudo apt-get install   wine
Enjoy and if  your  have  any  question  please report it in The  forum
---
For questions please refer to our Q/A forum at : http://ask.unixmen.com/
Like us on Facebook
Donate to Unixmen
We need your assistance to stay live
This week Top Posts
Recent Comments
Favorite Links
This work by
unixmen.com
is licensed under a
Creative Commons Attribution-NonCommercial-NoDerivs 3.0 Unported License
.