Howto upgrade to openoffice3.1.1 on ubuntu9.04|LinuxMint Gloria
Announced few days ago by openoffice the release of the new version 3.1.1 of openoffice , the new version fixes a number of bugs in the previous version and a potential security vulnebirality , but does
not add any new functionality.
The 2009-09-04 becomes available the installation of openoffice3.1.1  via repository for Hardy, Intrepid and Jaunty Jackalope , in this tutorial will show you the steps to upgrade to the new version of Openoffice in Ubuntu Jaunty Jackalope and LinuxMint Gloria.
1- Add repository
sudo gedit /etc/apt/sources.list
then add these too lines at the end of the list :
deb http://ppa.launchpad.net/openoffice-pkgs/ppa/ubuntu 

jaunty

 main 
deb-src http://ppa.launchpad.net/openoffice-pkgs/ppa/ubuntu 

jaunty

 main
Now save and close.
You can also go to System—>Administration—>Software source and add the lines above there :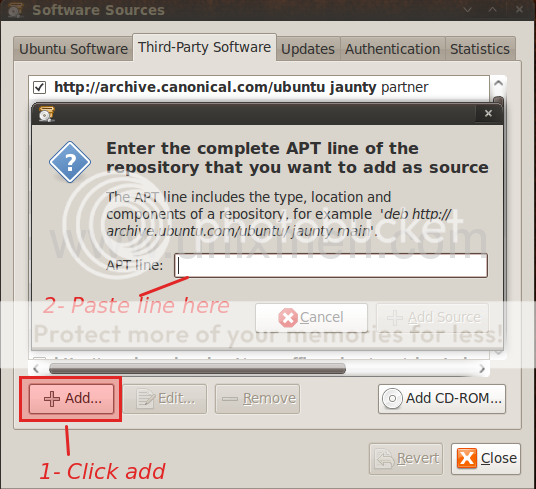 2- Now open the terminal and add  this key
sudo apt-key adv --keyserver keyserver.ubuntu.com --recv-keys 247D1CFF
3- Now type the commande update
sudo apt-get update
4- Now upgrade openoffice
sudo apt-get dist-upgrade
* Important for LinuxMint users :
To save your original splash go to :
/usr/lib/openoffice/program and copy the openabout_ubuntu_sun.bmp and openintro_ubuntu_sun.bmp and save them somewhere where you can find them. Once the new version of OpenOffice is installed use gksu nautilus in the terminal to copy in your original artwork back into /usr/lib/openoffice/program and your splash will be back to normal.  Thanks to exploder

---
Links :
For questions please refer to our Q/A forum at : http://ask.unixmen.com/
Like us on Facebook
Donate to Unixmen
We need your assistance to stay live
This week Top Posts
Recent Comments
Favorite Links
This work by
unixmen.com
is licensed under a
Creative Commons Attribution-NonCommercial-NoDerivs 3.0 Unported License
.