GNOME Do 0.8.3.1 Released, see installation instructions for Linux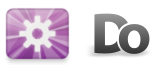 GNOME Do 0.8.3.1 has been released with a couple of extra bugfixes. The main attraction in the 0.8.3.1 big top is a fix for the "Do sits there eating 100% cpu" bug. In the lesser rings are multiple fixes for crasher bugs, numerous Network-Manager related fixes, and some minor polish. Rumours of flying pink elephants remain
If you diden`t hear before about GNOME Do (Do), it is an intelligent launcher tool that makes performing common tasks on your computer simple and efficient. Do not only allows you to search for items in your desktop environment (e.g. applications, contacts, bookmarks, files, music), it also allows you to specify actions to perform on search results (e.g. run, open, email, chat, play).
To install the new version :
For Ubuntu 9.10 karmic Koala :
1- add repository :
sudo add-apt-repository ppa:do-core/ppa
2- Refresh and install
sudo apt-get update && sudo apt-get install gnome-do
For other ubuntu versions please visit this link
For Fedora :
GNOME Do is in the repositories for all stable Fedora releases and the development branch. Use the graphical tools to install it or invoke the following as root:
# yum install gnome-do

For Debian :
apt-get install gnome-do gnome-do-plugins

For plugins you can visit this page
For questions please refer to our Q/A forum at : http://ask.unixmen.com/
Like us on Facebook
Donate to Unixmen
We need your assistance to stay live
This week Top Posts
Recent Comments
Favorite Links
This work by
unixmen.com
is licensed under a
Creative Commons Attribution-NonCommercial-NoDerivs 3.0 Unported License
.