FrostWire a peer to peer opensource software for linux
FrostWire is a peer-to-peer file sharing program for the Gnutella and BitTorrent protocols. FrostWire
is written in Java, and is a fork of LimeWire, another popular Gnutella client. Released under the GNU General
Public License, FrostWire is free software and is a good alternative for Limewire
Here are some futures of FrostWire:
Completely Free & Open Source!
Faster Download Speeds

No Spyware. No Adware. Guaranteed.
iTunes™ Compatible!

Faster Torrent Speeds

Friendly Online Chat Rooms
Bittorrent Support!

Even More Connections

New & Improved Skins
Frostwire is availeble for almost all operaing systems, you can download the package that correspond
to your distribution from the link bellow, then simply click on the package to install it

 http://www.frostwire.com/?id=downloads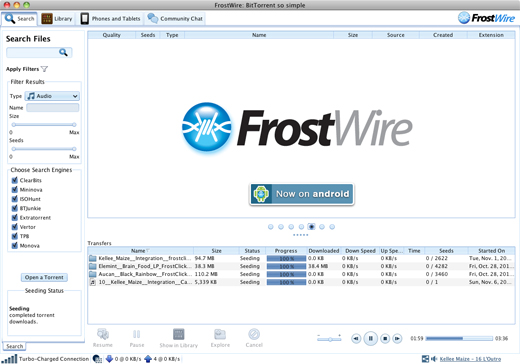 For questions please refer to our Q/A forum at : http://ask.unixmen.com/
Like us on Facebook
Donate to Unixmen
We need your assistance to stay live
This week Top Posts
Recent Comments
Favorite Links
This work by
unixmen.com
is licensed under a
Creative Commons Attribution-NonCommercial-NoDerivs 3.0 Unported License
.