Disable Userlist in GDM Login Screen ubuntu
Normally  when you  install  your  ubuntu ,   you can  see the  registred  users in your  system , but  exit  a  way  to make  it  secret .
if you want   to disable the userlist in the GDM Login screen, for security reasons, follow these steps
1. Logout of your current session and return to the GDM
2. Switch to the tty command line prompt using Ctrl-Alt-F1
3. Login using your normal login/password
4. at the command line prompt type: export DISPLAY=:0.0
5. then type: sudo -u gdm gconf-editor
6. Switch back to the gdm screen using ALT-F7
7. The Configuration Editor should be loaded.
8. Go to apps/gdm/simple-greeter.
9. Change the Value of disable_user_list to TRUE.
10. Close the Configuration Editor.
11. Reboot your machine, there will be no user list in the GDM.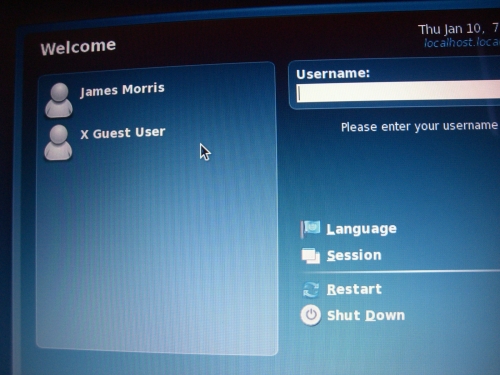 For questions please refer to our Q/A forum at : http://ask.unixmen.com/
Like us on Facebook
Donate to Unixmen
We need your assistance to stay live
This week Top Posts
Recent Comments
Favorite Links
This work by
unixmen.com
is licensed under a
Creative Commons Attribution-NonCommercial-NoDerivs 3.0 Unported License
.